The stores said the general merchandise sections have been closed in line with national guidelines.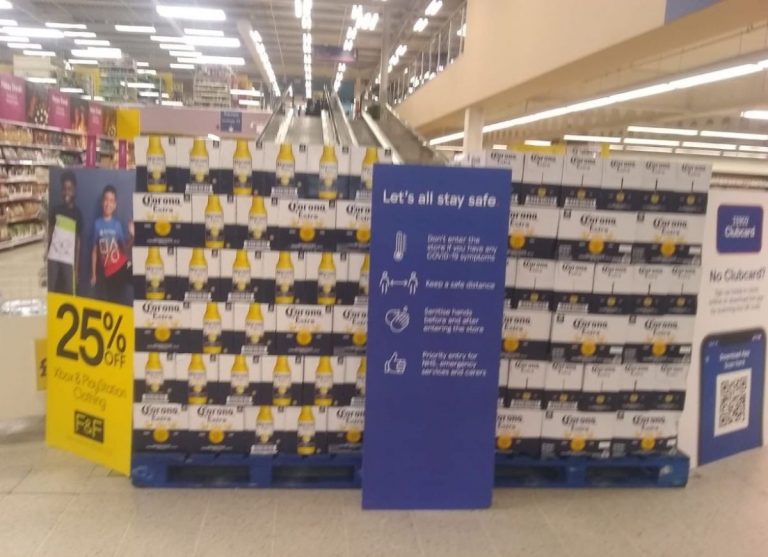 Tesco's customers have expressed all their anger after finding part of the store blocked off by a wall of beer. This is what happened in the English store of Walsall, where people found the escalators to the first floor blocked by a barricade of alcohol-filled cases.
The move of Wales
Wales promoted the ban on the purchase of non-essential products in supermarkets in order to to guarantee a level playing field between essential retailers and those who had instead been forced to close.
This caused a lot of controversy and has alarmed many shoppers in England, who had been concerned the same rules would be put in place when the country entered lockdown last Thursday. However, the rules in England are different. Infact, the stores are divided into different sections with a separate floor or area for clothes and homeware and they are required to prevent people from entering non-essential areas.
Tesco's block: the anger of customers
But the store Tesco in Walsall had put a block in and this made customers go on a rampage.
A customer said on Facebook: "You should be ashamed of yourselves. This is Walsall too so for anyone who says 'oh, it's only Wales who are doing this' you are wrong! We now can't buy our kids clothes and yes there's online but sometimes urgency requires people to go in-store, and some people have no access to the internet". The customer also wanted to emphasize that the store blocked the kids clothes with alcohol.
Also a mother tweeted that she was disappointed that Tesco should stop the access to clothes, toys and cards during this lockdown. "I've got three birthdays this month, one for a child and two adults. I wanted to get a toy and cards today." she continued.
At the same time, a supermarket's spokesman wrote on Twitter: "In line with new Government guidance in England which requires the closure of separate floors selling non-food items, we have closed the Clothing and General Merchandise departments in our stores that sell these products from a separate mezzanine level." He also added that they all were sorry for the inconvenience and wanted to reassure its customers, making itself available for any further request or need.