To support citizens, doctors and nurses, in this difficult Covid situation, The Queen gave a speech on national television wearing a very important brooch.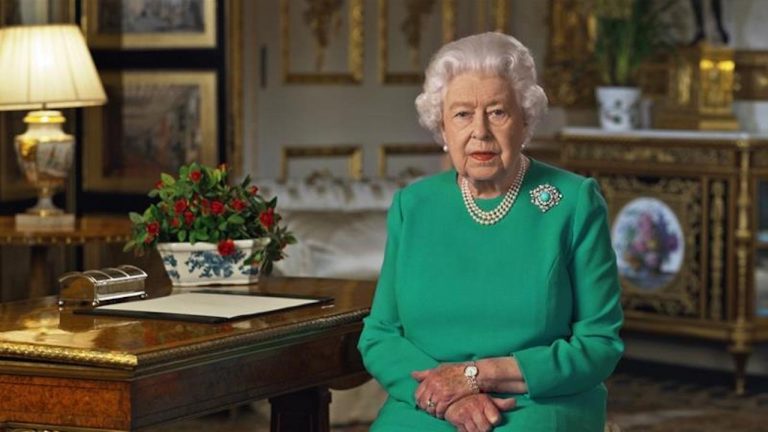 In Windsor Castle's White Drawing Room, The Queen gave a Tv speech about this situation caused by Covid wearing an important brooch. The Queen sat at her desk wearing a green dress with a pearl necklace, she praised the NHS, thanked key workers and expressed her sympathy at people suffering during this difficult time. She matched the dress with a stunning diamond and turquoise brooch. The brooch used to belong to Queen Mary.
The Queen's television speech on Covid: the brooch and the words
The brooch is a large turquoise stone surrounded by diamonds. Queen Mary, who is The Queen's grandmother, gave the piece on her wedding day and left it to the now-monarch when she died in 1953. The queen wore it for the first time in public in 2014. The last time he wore that piece is in August to attend a craft sale at a church near Balmoral Castle. Tonight's speech was only the fifth time the Queen has addressed the nation in this way. It came just hours after Britain's Coronavirus death toll jumps 621 to 4,934 in a day – including 29 patients with no underlying health conditions.
The monarch said "We, as children, spoke from here at Windsor to children who had been evacuated from their homes and sent away for their own safety. Today, once again, many will feel a painful sense of separation from their loved ones. But now, as then, we know, deep down, that it is the right thing to do."
Royal sources say the logistics and planning have been particularly difficult due to the nationwide lockdown, and fears over the risks to the Queen's health after she entered isolation on the advice of the Government. The White Drawing Room of Windsor Castle has been chosen as the location for the filming. It would allow a safe distance to be kept between the monarch and her camera operator. The cameraman was dressed in the same type of protective equipment that doctors and nurses dress to treat infected patients.
Another royal source said, "It was never in doubt that she would address the nation, even in the face of such an invisible invader that could even breach Windsor Castle walls. Her words will echo those of her father George VI during the Second World War, bringing the country together in a moment of crisis. Now her words will fill the houses of millions of homes around the country and echo around the world to the Commonwealth's two and a half billion citizens as we join forces to defeat this awful disease."