A cycle lane row in Chiswick was officially taken to High Court, as controversy over the new cycle lanes in London continue.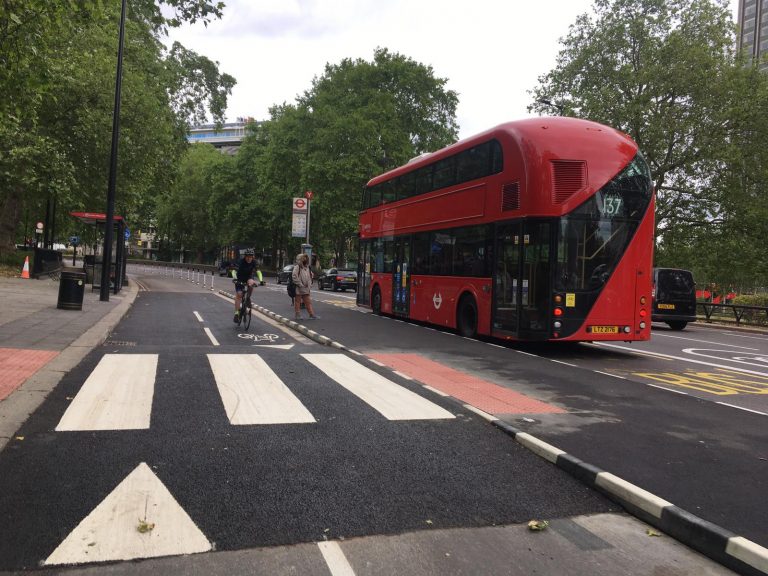 During the summer, a project funded by Transport for London (TfL) aimed to build miles of cycle lanes around the capital in order to reduce Londoners' reliance on cars, especially during this pandemic. The new cycle routes have sparked controversy over a huge traffic issue all over the capital.
This time the row is being taken to the High Court.
Cycle lane war taken to court
Another row over cycle routes around London has sparked and even made it to the High Court, according to reports. Residents are asking the High Court to send Hounslow council back to the drawing board about the changes they are making on Chiswick High Road, where reportedly even the Queen got 'stuck in the gridlock'.
This comes after months of controversy around the new cycle routes installed by Trasport for London to tackle the overuse of cars in the capital. The cycleway 9 route through Chiswick is one of the three major cycle infrastructure projects by Tfl, while the others are partially completed, the cycleway 4 scheme would link Tower Bridge, Greenwich and Woolwich, and the Mile End to Canary Wharf cycleway via Victoria Park. Many cycleways are going to be upgraded, as for the CS7 between Colliers Wood and Elephant and Castle and a new cycle lane will be created between Lewisham and Catford.
Londoners are showing their support to Major Sadiq Khan over his project, tweeting their favourite cycle routes. The new cycleways are miles of extra space for walking and cycling through the capital as part of a wider project to tackle air pollution in London.
? New temporary cycle lanes on Park Lane are now ready for everybody to use ✔️

They are part of the Mayor's Streetspace for London programme to rapidly create extra space for walking and cycling in every part of the capital ?‍♀️ ? #StreetspaceLDN
https://t.co/FBj2qTiZDG pic.twitter.com/kyb8cNGOh0

— Transport for London ?? (@TfL) June 6, 2020
But the controversy over miles of traffic all around London every day is now a solid issue. Lovers of the new cycle lanes are in fact in a constant row with those affected by the narrowing of the roads which is creating further traffic.
Yesterday was in standstill traffic on Park Lane due to new ridiculously wide cycle lane. How can London revive its economy @SadiqKhan when businesses can't get anywhere. The wonderful Hyde Park is right next this road, why can't cycle lane be there? Far safer & might be used! pic.twitter.com/1qheDncokX

— Elaine Paige (@elaine_paige) July 24, 2020
Moreover, another big row sparked after the news that in five hours just six cyclists were seen using a new lane in Harrow compared to 2,000 cars, 500 vans and 200 other vehicles which were stuck in gridlock because the road had been narrowed by a cycle lane. Nigel Farage reacted to the news on Twitter by calling it 'a joke'.
READ MORE: