AstraZeneca CEO Pascal Soriot said the contract signed with the EU did not set a specific timetable, a statement Europe denies.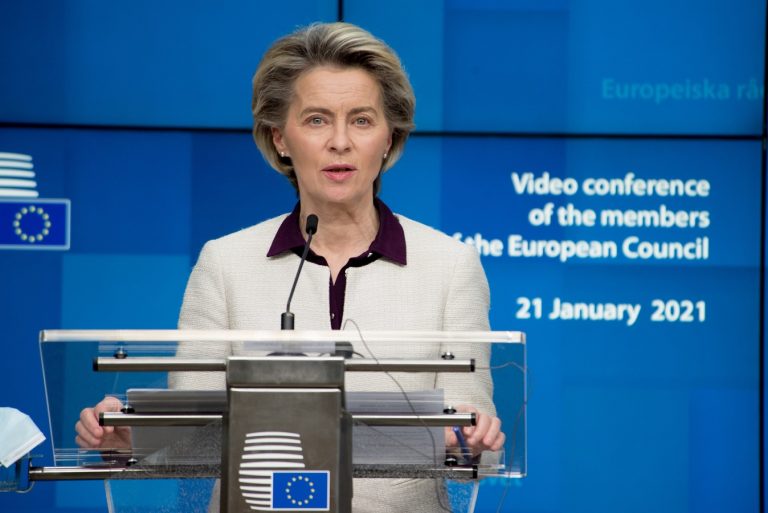 After the growing row between Europe and the pharmaceutical giant AstraZeneca over vaccine doses, Ursula Von Der Leyen now calls for the contract with the drug-maker to be published.
EU calls for AstraZeneca contract to be published
The EU signed the vaccine contract with AstraZeneca in August and according to the European Commission Chief it contained 'binding orders'.
After the recent row with AstraZeneca, Europe is calling for further explanations about the vaccine shortages. The pharmaceutical company has so far blamed the hold-ups on production delays. The EU's vaccine contract involved 300 million doses to be distributed to the European Union after the regulatory approval and the possibility of having 100m more.
EU sources confirmed Europe can so far expect only a quarter of the 100m doses to be distributed by March, which would represent a shortfall of 75m vaccines.
The pharmaceutical giant said productions issues started in plants in Netherlands and Belgium. Pascal Soriot, Executive Chief of AstraZeneca had confirmed the contract signed with the EU did not set a specific timetable, a statement Europe denied. Europe has had a slow start in the vaccination programme and pressure has started growing after AstraZeneca confirmed the delay in distribution. Von Der Leyen now calls the contract to be published, she confirmed: "There are binding orders and the contract is crystal clear..AstraZeneca has also explicitly assured us in this contract that no other obligations would prevent the contract from being fulfilled".
The EU-AstraZeneca row continues
The row between the EU and AstraZeneca had in fact started growing after the drug-maker announced they would be distributing 100m doses to the UK first. AstraZeneca said distribution to the UK was still a hundred per cent secure as they had signed an early contract. Europe now calls for transparency, "We are speaking with the company about which parts need to be redacted. But we want to achieve transparency", Von Der Leyen confirmed.
EU Justice Commissioner Didier Reynders said Europe counts on solidarity as essential principle of the continent, a principle to shown by the UK, he declared. "The EU commission," Reynders said, "has pushed to co-ordinate the vaccines contracts on behalf of the 27 precisely to avoid a vaccines war between EU countries, but maybe the UK wants to start a vaccine war? .. Solidarity is an important principle of the EU. With Brexit, it's clear that the UK doesn't want to show solidarity with anyone."
AstraZeneca CEO, Pascal Soriot had responded to Europe's accusations revealing details about the vaccine contracts signed with the UK and with Europe trying to make clear why UK was put first, "we basically signed an agreement with the UK three months before we did have it with Europe", he explained. "..We are all very disappointed," he said, "We would like to produce more. I think we will deliver up to Europe in the month of February a reasonable quantity actually.." Soriot was also asked whether the different delays depended on different sums of money paid by countries, and he firmly denied:"The suggestion we sell to other countries to make more money is not right because we make no profit everywhere. That's the approach we took and we agreed on that. That's the agreement we have with Oxford University. It's actually even written in a contract we have with Oxford University: that we will be at no profit."
READ MORE: