The "Satan Shoes" are Nike modified with an inverted cross, a pentagram and human blood. Nike sued MSCHK and Lil Nas for trademark infringement.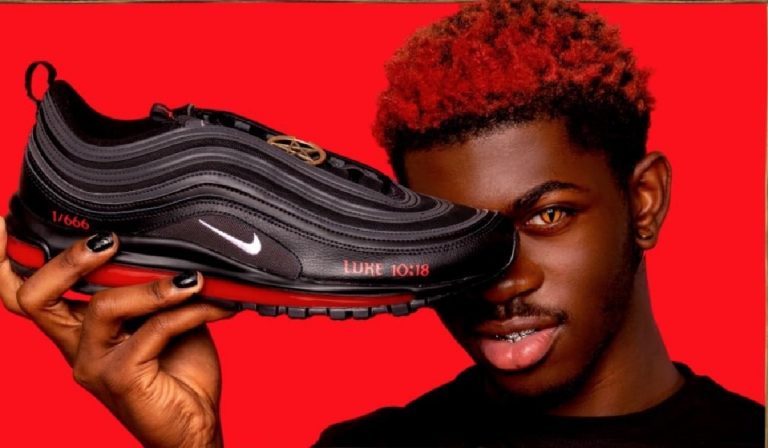 The "Satan Shoes", released by MSCHF in collaboration with Lil Nas X, cost £740. They are the Nike Air Max 97s modified with an inverted cross, the pentagram and the Bible scripture "Luke 10:18" on top. The Brooklyn art collective released 666 pairs of this black and red shoes on Monday March 29th, and they were sold in less than one minute.
But Nike sued the rapper and the collective because of a claimed trademark infringement.
The "Satan Shoes"
MSCHF released the shoes at the same time Lil Nas X launches his latest song "Montero". In the music video, the rapper is wearing the "Satan Shoes" while he's sliding down a stripper pole from heaven to hell.
In fact, the Bible verse written on the shoes says :"So I tell them, 'I see Satan fall like lightningn from Heaven'".
Each shoe has the signature Nike air bubble cushioning sole. Moreover, it contains 2.03 fluid ounces of red ink with a single drop of human blood, donated by the members of the art collective.
Nike and public response
Nike reported these shoes to the US District Court for the Eastern District of New York. The company said that it didn't approved the cutomization made by MSCHF. Nike also asked the Court to stop the art collective from selling the shoes and using the company's Swoosk mark.
The sport shoes giant declared that people may think that the "Satan Shoes" were a Nike product. The company wanted to differentiate itself from the art collective's work. And sure enough, people started to boycott Nike because they believed that the sport giant approved the MSCHF shoes.
Some Conservatives and some religious followers condemned Lil Nas X and MSCHF for the "satanic" shoes.
Lil Nas X didn't reply to the critics. Instead, he tweeted several memes of Conservatives and Nike on his Twitter profile.