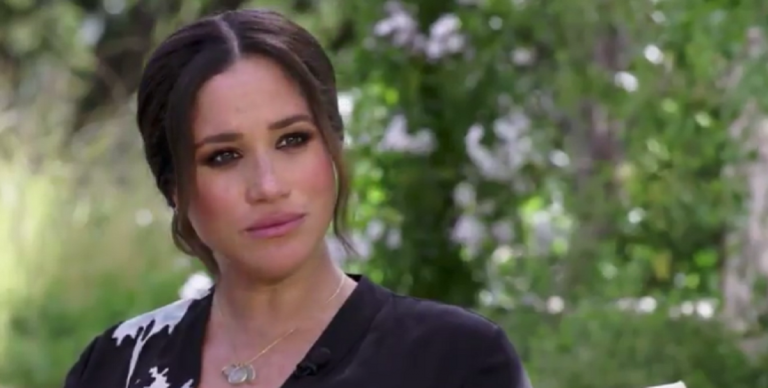 Meghan Markle accused the Royal family of perpetuating falsehoods in a new clip before her interview with Oprah happens. She tells how "there's a lot has been lost" in the 30-second teaser released. It was just hours after Buckingham Palace published an investigation into bullying claims made against her.
Meghan accuses Royals spreading falsehoods
Winfrey asked how Meghan felt about "the Palace hearing you speak your truth" in the preview. Then the Duchess of Sussex replied that she doesn't know how they could expect that after all of this time they would still just be silent if there is an active role that The Firm is playing in perpetuating falsehoods about them.
She even added, "And if that comes with the risk of losing things, there is a lot that has been lost already."
The investigation comes after a report about bullying allegations made by the duchess's staff. Staff members involved Meghan of "driving out" two personal assistants and a former aide called her and Prince Harry "outrageous bullies."
The duchess is also accused of saying, "It's not my job to coddle people," after aides were allegedly humiliated and tearing up over her "difficult demands."
It comes as:
Queen orders investigation into Meghan Markle bullying claims as Palace are 'very concerned & won't tolerate harassment'
Meghan Markle's pal accuses palace of racism after bullying claims & says Duchess 'knew it would get ugly' before Oprah interview
Duchess of Sussex 'had furious rows with Palace aides over freebie designer clothes' at time of staff bullying accusations
Meg's friend vows 'nothing will stop them from sharing their truth' after Queen orders bullying investigation
Duchess 'ignored advice from aides not to wear earrings gifted by Saudi Crown Prince'
Meghan denied the allegations and said The Times was being "used by Buckingham Palace to peddle a wholly false narrative."
In a statement , The Palace said they were very concerned about the staff claims that the duchess bullied them. The Palace continued that its human resources team would look into the accusations in the story and that staff members who were included, including those who no longer worked there, would be asked.
A friend of Meghan and Prince Harry said, "I hate to say it, but find me a woman of colour in a senior position who has not been accused of being too angry, too scary, too whatever in the workplace. Sadly, it's happening, but I'm not surprised. These claims are so far from the woman I know.