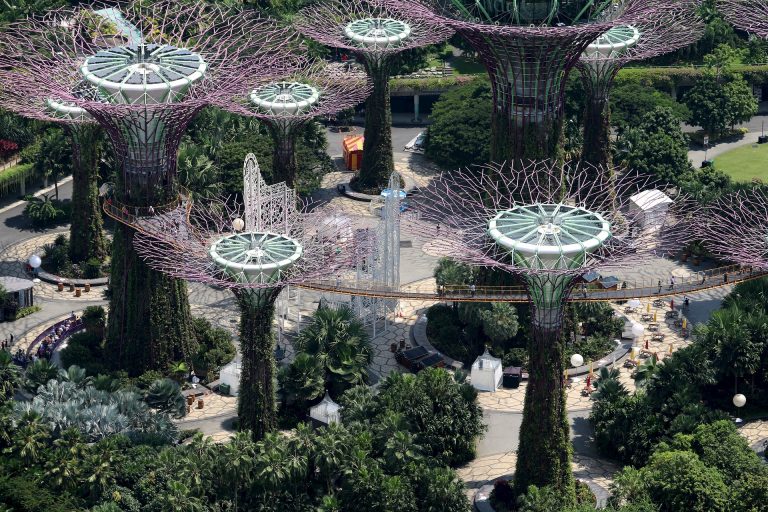 It is already an enchanted forest. However, starting from January it will be even more so. It is Gardens By The Bay, a 101-hectare park in central Singapore, right next to the Marina Bay Sands reservoir. This magnificent park is in fact enriched by the spectacular works of interactive digital art by TeamLab.
The art collective specializes in constantly evolving, immersive artworks. And the gardens of Singapore Bay are the ideal canvas for their great visual works that erase the boundaries between people and the work of art. The exhibition will open to the public on January 16, 2020 to celebrate the bicentenary of Singapore.
For the occasion, the city will host a series of commemorative events that will have as main theme the hashtag #futuretogether.
What Is Singapore Gardens By The Bay?
Since its opening in 2012, Gardens by the Bay has welcomed 60 million visitors. Among the main attractions are the Flower Dome and the Cloud Forest. These are two glass and steel domes that contain plants and flowers belonging to rare species, from every corner of the globe. However, the top attraction of the park is the Supertree Grove. It consists in steel trees that turn into luminous works of art as the sun goes down.
An App to Make Flowers Bloom
Just like these trees, the new works of Team Lab will come to life in the evening. In balance on the surface of the artificial lake there will be large luminous ovoids, whose lights are synchronized with the Supertree Grove. The result will be an evocative play of lights that visitors will be able to "command" – thanks to their smartphones. By installing a special app, in fact, people can send messages to the works of art of Team Lab. In this original way, they will become an integral part of the show.
Virtual flowers will bloom on a hill 15 meters high and 38 meters wide. There will then be a continuous cycle of life and death that repeats itself without interruption, determined by the number of people who will approach the work. In short, this won't be a pre-recorded or looped animation, but an installation in continuous evolution, which never repeats itself.
The main entrance to the gardens is on Marina Gardens Drive. People are able to visit part of the park free of charge every day from 5 am to 2 am. The most spectacular attractions, on the other hand, are subject to a fee.