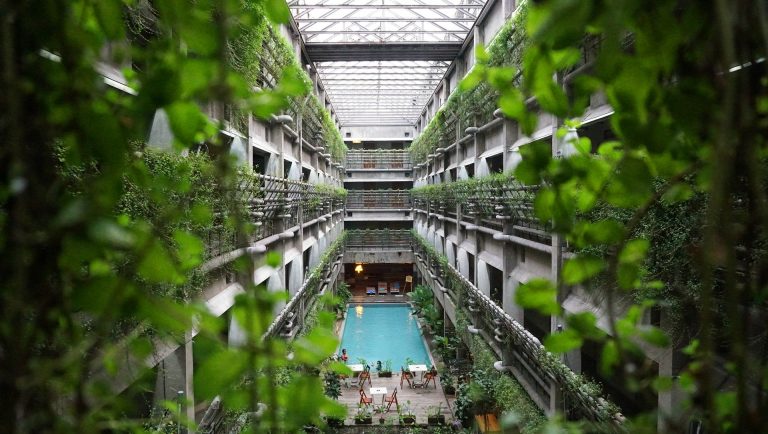 Today we can travel in an ecological way. In fact, there are many accommodation facilities in the world that adopt a sustainable lifestyle, respecting the environment and nature. Natural furniture, energy and water saving, recycling and the possibility to eat local food.
These are the main characteristics of eco-hotels, as well as all the measures to reduce environmental impact and promote sustainable development. Let's discover together some of the most beautiful green accommodations in the world.
Green Accommodations: Alila Villas – Uluwatu, Bali
Designed by Singapore award-winning architecture firm WOHA, Alila Villas Uluwatu is one with nature. In fact, the structure blends perfectly with its natural surroundings. Moreover, the rooms have been specially designed to enjoy spectacular views of the Indian Ocean.
Ion Adventure – Nesjavellir, Iceland
Less than an hour's drive from Reykjavík and against the backdrop of majestic mountain lava fields stands ION Adventure Hotel. Staying at this hotel is an unforgettable experience. The rooms, the Sifra Restaurant, the famous Northen Lights Bar, the Lava Spa and the magnificent landscape on the horizon is what you need to enjoy the unmissable Northern Lights and the atmosphere of the deep North.
Riad Jardin Secret – Marrakech
This hotel is a small riad in the Medina of Marrakech with great attention to detail, respecting local traditions. In fact, there is plenty of space for local craftsmanship and tradition. As a result, it seems a small, intimate secret garden. It is perfect for stays of a Thousand and One Nights!
Green Accommodations: Montaña Mágica Lodge – Huilo-Huilo, Chile
The "Magic Mountain" is located in Chile, in a place of extraordinary beauty. It is the Huilo-Huilo biological reserve, not far from the Argentine border. In the midst of 34,500,000 hectares of native forest, stands this structure, which fits perfectly into the natural environment.
Treehotel, Harads – Sweden
The dream of the tree house here can come true. This incredible structure has six rooms, all overlooking the valley of the river Lule. Moreover, the rooms, suspended from the ground and hanging from the trees, all have a different shape. And of course they were built without sacrificing any plants.
Crosby Street Hotel – New York
Looking for green accommodations in the heart of a big metropolis? Here it is one. This hotel boasts a garden with over 50 different species and an urban vegetable garden with local products chickens. In short, a decidedly green corner in the frenzy of the Big Apple.