General Practitioners will start distributing the Pfizer jab against Covid during the forthcoming week.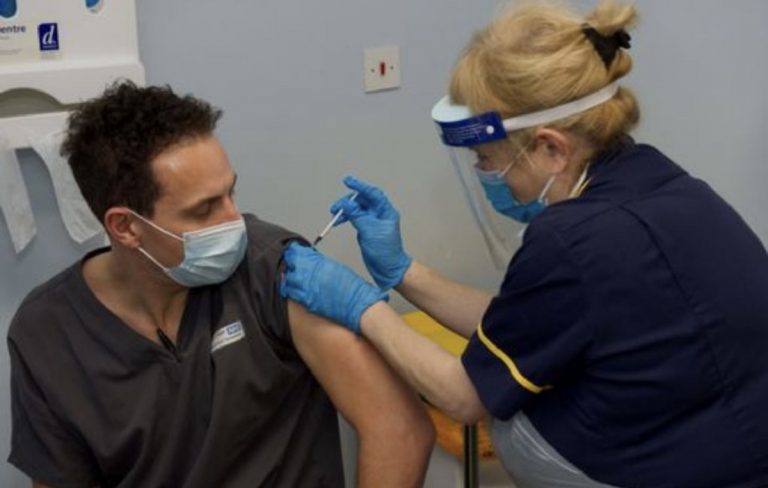 NHS said that GPs will receive their first deliveries of the vaccine later in more than 100 locations. Some of them will start vaccinating on Monday, December 14th while the majority will get it on Tuesday 15th.
GPs to distribute Pfizer vaccine against Covid
Until now, tens of thousands of people in the UK received the Pfizer-BioNTech jab last week in hospitals. GPs will prioritise over-80s, along with health and care staff. Dr Simon Hodes, a GP from Watford who will begin vaccinations on Monday, told patients are welcoming their jab offers with "great excitement". "They've been reading the news – they know it's safe – and they're keen to have it".
Dr Nikita Kanani, director of primary care at NHS England, urged people waiting for Covid vaccinations to be patient. Meanwhile, Business Secretary Alok Sharma told there would be "some millions" of the Pfizer/BioNTech vaccine in the UK before Christmas.
Once the vaccine is delivered, GPs practices will have only have three-and-a-half days to use them up. They will receive batches containing up to 975 doses. GPs, practice nurses and health care assistants will work together to vaccinate the over-80s.
The 100 or so practices getting the vaccine on Monday will be followed by another 100 to 200 over the week. The rest of the network of 1,200 designated practices are expected to follow in the coming weeks, but that will depend on supply.
Otherwise, approval of a second vaccine made by Oxford University and AstraZeneca is on the way. Regulators are currently assessing the safety and effectiveness of that vaccine, of which there are already over five million doses available.
Prof Martin Marshall, chairman of the Royal College of GPs, acknowledged there were "logistical challenges" to the rollout but said GPs had "an excellent track record of delivering mass vaccination programmes".
He added, "We won't be vaccinating everyone all at once, but as long as there is supply, GPs and our teams at selected sites will start vaccinating people this week, starting with our most vulnerable patients." He urged people not to contact their GPs enquiring about vaccination, saying patients would be contacted when it was their turn to get the jab.