The Manchester United star slammed free school meal packages after a mum posted pictures of the parcels online.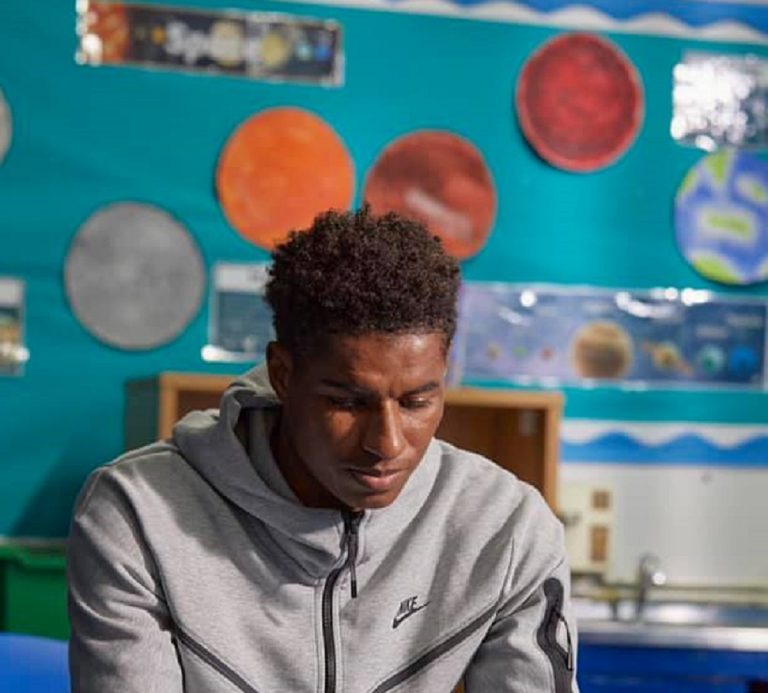 Marcus Rashford, Manchester United star and anti-poverty campaigner, has criticised free school meal packages that have been sent to families across Britain, saying they are just 'not good enough', after a mother posted a picture of the actual meal on Twitter.
Rashford slams FSM packages
The footballer has long fought for free school meals for UK families, as he confessed his family relied on them when he was growing up. He criticised the food packages on Twitter, after a mother posted the actual package that was delivered to her home, which supposedly had to contain £30 worth of food and had to last for 10 days but actually contained little food. "Public funds were charged £30, I'd have bought this for £5,22" the anonymous mum affirmed on Twitter, bringing the attention on the private company managing the free school meals.
#FreeSchoolMeals bag for 10 days:

2 days jacket potato with beans
8 single cheese sandwiches

2 days carrots
3 days apples
2 days soreen
3 days frubes

Spare pasta & tomato. Will need mayo for pasta salad.

Issued instead of £30 vouchers. I could do more with £30 to be honest. pic.twitter.com/87LGUTHXEu

— Roadside Mum 🐯 (@RoadsideMum) January 11, 2021
Marcus Rashford immediately tweeted his disdain: "3 days of food for 1 family.. Just not good enough… We MUST do better."
Then imagine we expect the children to engage in learning from home. Not to mention the parents who, at times, have to teach them who probably haven't eaten at all so their children can…

We MUST do better. This is 2021 https://t.co/mEZ6rCA1LE

— Marcus Rashford MBE (@MarcusRashford) January 11, 2021
Rashford had already started a row with Tory MPs over free school meals for UK children after they had decided to reject a motion that would extend the meals until Easter 2021. The packages seen on the pictures posted online have been sent to families who qualify for free school meals, as they are currently learning remotely during lockdown.
READ MORE: