The Sky Sport pundits together with host Kelly Cates and commentator Gary Neville ditched the Black Lives Matter badges.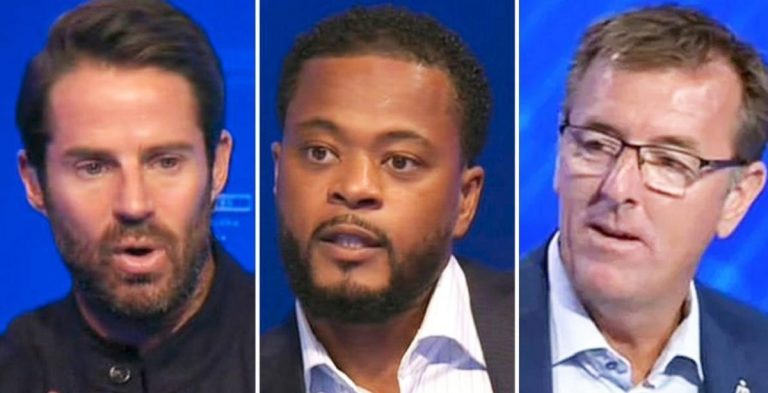 On Tuesday Patrice Evra and Jamie Redknapp were not wearing their Black Lives Matters badges during Sky Sports transmission. After Premier League stated that Black Lives Matter's backing is not political.
Redknapp and Evra ditched their badges
The Sky Sport experts along with host Kelly Cates and commentator Gary Neville have not shown the badges.
It happened during Sky Sports' debate of Manchester United's win at Brighton
The movement received strong support from the Premier League, its clubs and players. In fact, player's shirts presented slogan in place of their names in the first matches after Covid pandemic. The Black Lives Matter protests have spread around the globe after the killing of George Floyd. Also many players and staff have taken the knee before kick-off demonstrating support.
In the previous coverage Redknapp and Sky Sports experts have worn the badges. Lately, Matt Le Tissier, fellow Sky star, pointed out he would review whether to wear the badge.
Premier League top-chief executive about BLM
Richard Masters, the Premier League CEO, have talked to MPs at a Digital, Culture, Media and Sport committee evidence session: "We are drawing a clear distinction between a moral cause and a political movement or agenda. Whilst there might be difficulties sometimes dividing the two, our position is clear: politics no, moral causes yes, when agreed. As I said we're living in special times at the moment. On this occasion we have decided to support (the players). That doesn't mean to say whenever players on an individual or collective basis want to do something that the Premier League and clubs will be duty-bound or willing to support it."
He added: "I don't think it sets any particular precedent and, going back to the point about political messaging, I think it might become slightly torturous, but it might be possible to support Black Lives Matter, the sentiment, without being seen to be supporting any political organisation.
"We are an apolitical organisation, we don't support political organisations. I think we are happy to support the players, we think it's the right moment to do it, and for the first time I feel players, managers, league and clubs are on the same page on the issue of discrimination, and that feels to me like a positive step", he concluded.