Extraordinary exchange paints picture of rift with family as couple says royals questioned how dark Archie's skin would be.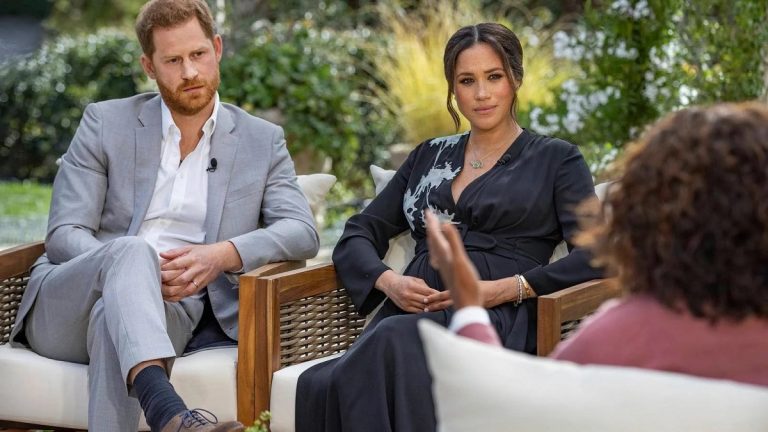 An awaiting interview between Oprah Winfrey and the Sussexes broadcasted in America in the early hours of the morning on CBS. For those who missed it, it will be shown on ITV tonight at 9 pm.
Meghan and Harry's Oprah interview : the pressure made her have suicidal thoughts
In the interview, Meghan Markle spoke about how the pressure of scrutiny impacted her mental health and made her have suicidal thoughts. Even she claimed there were "conversations" about her son Archie's skin tone, discussed her relationship with the Duchess of Cambridge and how she and Prince Harry secretly wed three days before the formal ceremony in May 2018.
Winfrey asked: "You'd said in a podcast that it became almost unsurvivable, and that struck me because it sounds like you were in some kind of mental trouble. What was going on? Almost unsurvivable sounds like there was a breaking point."
Meghan replied: "Yeah, there was. I just didn't see a solution. I would sit up at night, and I was just like I don't understand how all of this is being churned out and again I wasn't seeing it, but it's almost worse when you feel it through the expression of my mom or my friends or them calling me crying just like 'Meg, they're not protecting you'.
"And I realised that it was all happening just because I was breathing. I was really ashamed to say it at the time and ashamed to have to admit it, to Harry especially, because I know how much loss he suffered. "But I knew that if I didn't say it that I would do it, and I just didn't…I just didn't want to be alive anymore.
"And that was a very clear and real and frightening constant thought. And I remember, I remember how he just cradled me and I was… I went to the institution, and I said that I needed to go somewhere to get help. I said that I've never felt this way before and I need to go somewhere. And I was told that I couldn't, that it wouldn't be good for the institution."
Winfrey asked if the Duchess of Sussex wants self-harming and suicidal thought at some stage, she replied with yes then added it was very clear and very scary. She, herself, didn't know how it can turn in to that. Then he reached out to one of the best friends of the late Diana, Princess of Wales. Meghan said she also asked the palace to seek professional help. She no longer had access to personal effects such as her passport after joining the family because all that gets turned over.
Winfrey asked Meghan: "So the institution is never a person, or is it a series of people?" Meghan replied it is "a person" and also said it is "several people", adding: "I went to one of the most senior people just to get help. And that you know… I share this because there are so many people who are afraid to voice that they need help." "And I know personally how hard it is to not just voice it, but when you voice it to be told 'no'. And so I went to human resources, and I said I just really, I need help, because in my old job there was a union, and they would protect me."
"And I remember this conversation like it was yesterday because they said 'My heart goes out to you because I see how bad it is, but there's nothing we can do to protect you because you're not a paid employee of the institution'. This wasn't a choice. This was emails and begging for help, saying very specifically 'I am concerned for my mental welfare'. And people were like 'oh yes yes it's disproportionately terrible what we see out there to anyone else', but nothing was ever done. So we had to find a solution."
Meghan recalled being "haunted" by a photograph from an official event with Harry at the Royal Albert Hall while she was pregnant. She said that right before we had to leave for that (event), they had just had that conversation with Harry that morning. It was the thoughts she was having in the middle of the night which was very clear and scared. It was very real. It's methodical, and it is not who she is. Meghan appeared tearful when she told Winfrey that Harry suggested she did not attend the event, but Meghan said she told her husband she couldn't be left alone.
She said: "Every time those lights went down in that royal box, I was just weeping. He was gripping my hand and it was 'Okay an intermission's coming' … and you had to just be 'on' again. You have no idea what's going on for someone behind closed doors. Even the people that smile the biggest smiles and shine the brightest lights, it seems." Meghan said she hoped the message people would take from the interview was "know there's another side, to know that life is worth living".
Meghan also added that she has lost her father, a baby, and nearly lost her name and identity but she is still standing.
She also revealed several conversations about her son's skin tone and what that would mean or look like. That was relayed to her from Harry, those were conversations the family had with him. She thought that it was hardtop see those as compartmentalized conversations. As the firstborn son of a duke, Archie could have become Earl of Dumbarton – one of Harry's subsidiary titles. Or have been Lord Archie Mountbatten-Windsor, instead of at the time of his birth, a royal source said Harry and Meghan had decided he should a regular Master Archie Mountbatten-Windsor.
Meghan also asked about her relationship with the Duchess of Cambridge during the interview. Even there were reports around the time of the royal wedding in May 2018 that suggested Meghan had upset Kate over the dresses for the flower girls. The Duchess replied, "No, no. The reverse happened. And I don't say that to be disparaging to anyone, because it was a really hard week of the wedding. And she was upset about something, but she owned it, and she apologised. "And she brought me flowers and a note, apologising. And she did what I would do if I knew that I hurt someone, right, to just take accountability for it."
Meghan said the reports she had reduced the Duchess of Cambridge to tears were a "turning point", and insisted it was Kate who made her cry. It was not a "confrontation" and it would not be "fair" to Kate to go into detail, she said, adding it was "hard to get over" being blamed for something she did not do.
Asked if she thinks there was a separate standard for her and Kate, and if so why Meghan replied that she doesn't know why but now she can see what layers were at play there. "And again they seemed to want a narrative of a hero and a villain. If you love her [Kate] you don't have to hate me," she added.
READ ALSO: