Maneskin leading singer took a drug test to end the uproar sparked by the backstage video.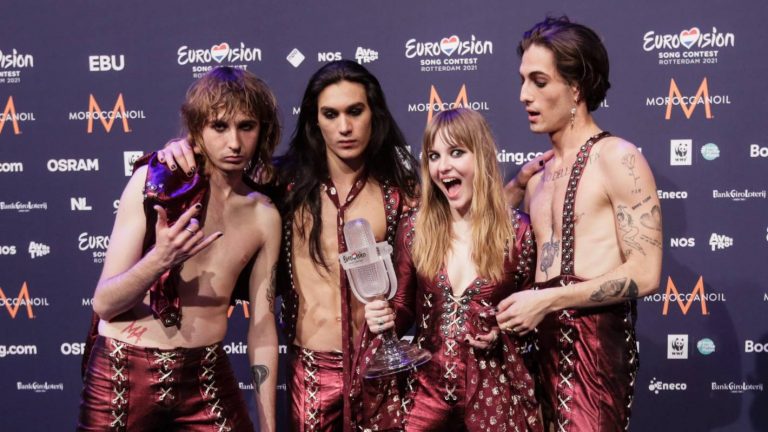 Italian Eurovision winners Maneskin tested negative for drugs. The result cleared all the allegations, according to which the band's singer took cocaine during the contest. The Eurovision organisers lately confirmed the band took a drug test that resulted negative.
Eurovision winners accused of taking drugs
After the Italian band's win on Saturday night, a backstage video created turmoil. The video, that quickly went viral, showed the singer, Damiano David, leaning over a table. According to some the footage proved that the singer was snorting something on the table.
During the press conference following the win, David strongly denied the allegations of drug use. The singer explained he bent over because another band member had broken a glass at their feet. Then, he volunteered to take a test to disprove the allegations.
Eurovision organisers said right away: "We are aware of the speculation surrounding the video clip of the Italian winners of the Eurovision Song Contest in the Green Room last night.
"The band have strongly refuted the allegations of drug use and the singer in question will take a voluntary drug test after arriving home. This was requested by them last night but could not be immediately organized by the EBU.
"The band, their management and head of delegation have informed us that no drugs were present in the Green Room and explained that glass was broken at their table and it was being cleared by the singer.
"The EBU can confirm broken glass was found after an on-site check. We are still looking at footage carefully and will update with further information in due course."
Maneskin wrote on their Instagram account they would do a drugs test, since they had "nothing to hide". They also added: "We really are AGAINST drugs and we never used cocaine".
The test results
The issue finally came to an end on Monday. The Eurovision released yesterday an official statement that claimed: "Following allegations of drug use in the Green Room of the Eurovision Song Contest Grand Final on Saturday 22 May, the European Broadcasting Union (EBU), as requested by the Italian delegation, has conducted a thorough review of the facts, including checking all available footage. A drug test was also voluntarily undertaken earlier today by the lead singer of the band Måneskin which has returned a negative result seen by the EBU."
The EBU commented, saying it was "alarmed that inaccurate speculation leading to fake news has overshadowed the spirit and the outcome of the event and unfairly affected the band".
READ MORE: