The long negotiation started on Friday morning on the Recovery Fund ended with the ok of European leaders to the proposal revised by Charles Michel.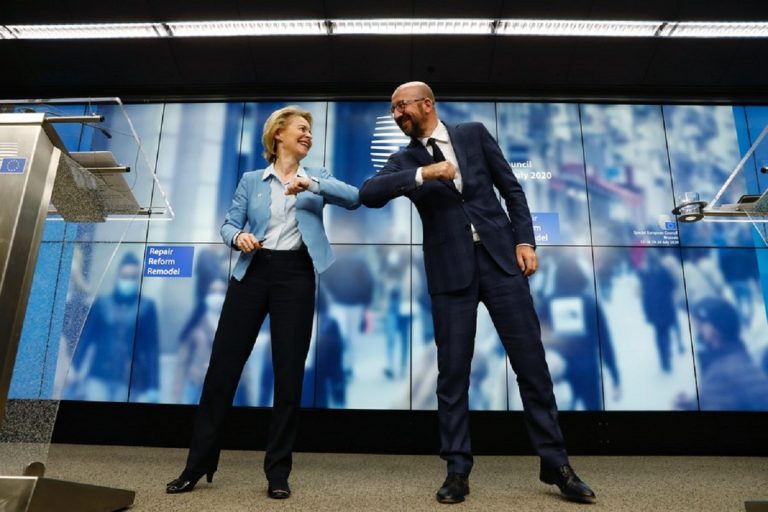 After the fourth night of negotiations, European leaders reached an agreement on a giant post-Covid recovery fund. It is a 750 billion grant and loan package to counter the impact of Covid-19 in the 27 Member States.
Agreement reached on EU Covid recovery fund
The Heads of State and Government have finally approved a plan for the European Union. This is an unprecedented decision that has been made because of an economic recession that has not been seen since the Great Depression. Recovery Found is the biggest joint borrowing ever agreed by the EU.
Charles Michel, the Summit Chairman, said it was a "pivotal moment" for Europe. He announced the end of the decision process with a single word on Twitter: "Deal!" Ursula von der Leyen, President of the European Commission, said the negotiations lasted more than 90 hours. This time the EU will not risk being accused of having done "too little, too late".
The agreement provides for a programme of subsidies of 390 bn to the member states most affected by the pandemic. Italy and Spain should be the main beneficiaries.
>EUR 360 bn of low-interest loans will be made available to the other states. The plan provides for strict controls to ensure that funds are not used improperly and incorrectly. Beneficiaries will have to submit spending plans to the European Commission
Comments from European leaders
French President Emmanuel Macron, who spearheaded a push for the deal with German Chancellor Angela Merkel, hailed it as truly historic. Germany Economy Minister Peter Altmaier said that, with the agreement, the chances of "a cautious, slow recovery" in the second half of this year had increased enormously.
"There were a few clashes, but that's all part of the game," said Dutch Prime Minister Mark Rutte, describing a warm relationship with his Italian counterpart, Giuseppe Conte. Spain, Italy and Portugal appear content with the smaller size of grants available.Antonio Costa, the portuguese PM said: "While it's true that it could have had a slightly bigger dimension, the recovery plan is robust enough to respond to the current estimates of the Covid crisis."