According to officials, it is imperative for Britain to prepare for the potential collapse of Putin's regime following the recent coup chaos. They are concerned that the "mortally wounded" Russian leader may resort to totalitarian tactics to cling onto power, reminiscent of Stalin's infamous purge.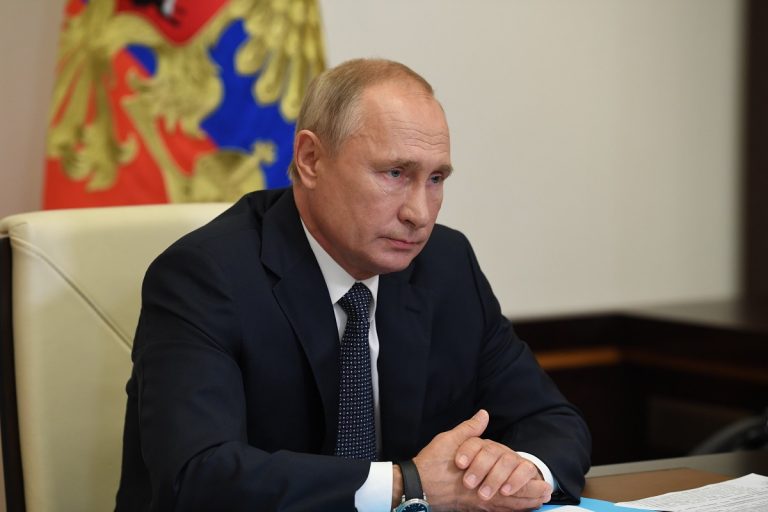 British government officials are cautioning that preparations should be made for the potential collapse of Vladimir Putin's regime, as concerns grow that the weakened leader may resort to desperate tactics to maintain his grasp on power, akin to those of Stalin.
Reports indicate that Putin's hold on Russia is waning, with mounting doubts over his recent whereabouts, particularly in light of the attempted coup instigated by Wagner mercenary forces, led by a former ally, Yevgeny Prigozhin. An authoritative source within the UK Government has stated that the nation should be primed for a variety of possible outcomes, and reflects that this could signify a new chapter in history.
Whilst reflecting on the situation at hand, Alicia Kearns, the esteemed chairman of the foreign affairs select committee, cautioned that the formidable Putin may resort to a purge in order to maintain his survival. This follows intense scrutiny from his propagandists, who are questioning why the march towards Moscow was permitted to progress as far as it did. Kearns further surmised that the Russian intelligence could have intentionally concealed the coup from the all-knowing Putin. Intelligence reports have confirmed that both the US and Britain were aware of Prigozhin's expanding forces along the Russian/Ukraine border for several days.
The Russian military found themselves in a state of shock as Prigozhin's soldiers advanced towards Moscow, causing them to hastily mobilize their defenses. The situation was not unknown to certain parties, as Ms. Kearns confirmed that the British Government had been aware of it for several days. Reports from US sources revealed that Congressional leaders had also been briefed on the Wagner build-up early last week, thus debunking Prigozhin's claim of responding to an attack on his camps in Ukraine. This leads us to question the actions of Russian intelligence, who either underestimated Prigozhin's capabilities or failed to inform Putin due to fear. In the end, Prigozhin received a hero's welcome after surprisingly halting his group's march towards Moscow.
However, indicators suggest that Putin's fight for survival remains ongoing. According to Ms. Kearns, the gates have been left ajar, inviting others to challenge the Russian leader. "This is far from over," she emphasized. "This isn't merely a power struggle between Putin and Prigozhin; it's brought into question the stability of the country itself." It's common knowledge that Prigozhin won't just settle down quietly in Belarus. While Putin may be on his deathbed, it's risky to declare him finished. After all, nothing infuriates him more than a turncoat.
The current whereabouts of Prigozhin remain unknown and his spokesman has stated that he is 'out of contact'. Meanwhile, US Secretary of State, Antony Blinken, has voiced concern about Putin's hold on power, citing the recent Wagner-Putin rebellion as evidence of 'real cracks'. Putin's pre-recorded address on Saturday expressed confidence that his forces would succeed in a 'special military operation' in Ukraine, but he has not been seen since. The situation has raised concerns among Western leaders, particularly given Russia's possession of the world's largest nuclear arsenal. Former CIA Moscow station chief, Daniel Hoffman, has warned that a rogue Russian leader could seize a nuclear warhead if Putin's grip on power falters. The situation remains uncertain and potentially volatile.