Joe Biden and Donald Trump had their final showdown before the presidential election on November 3rd.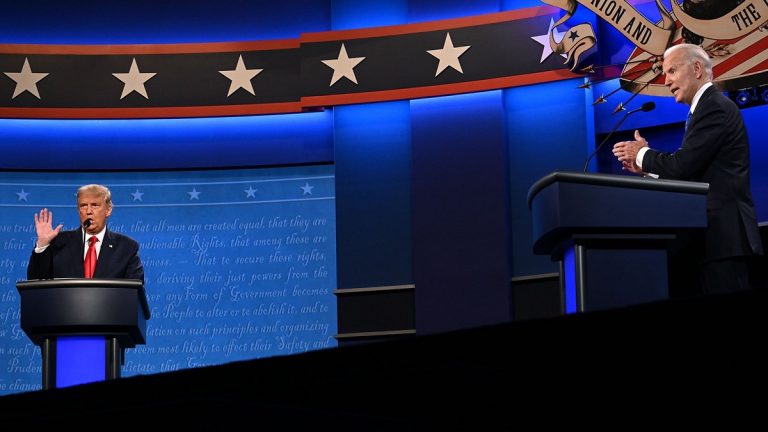 Since the first presidential debate back in September, Democratic candidate Joe Biden and President Donald Trump have been clashing on different issues, in front of America and the world. The long-awaited final showdown was hosted on Thursday night and how to handle a pandemic remained the number one matter of discussion, along with tax returns, climate and immigration.
Biden and Trump in final debate
The highly anticipated final showdown took place at Belmont University in Nashville, Tennessee, on Thursday night. Candidate Joe Biden attacked Trump on his handling of the coronavirus pandemic, in their final debate before the 2020 election.
President Donald Trump defended his government claiming his approach has proved right as the pandemic showed worst in the past. Biden attacked him saying: "Anyone who's responsible for that many deaths should not remain president of the United States of America", and said Trump is avoiding responsibility for this pandemic. Donald Trump responded immediately affirming the pandemic was not his fault but "China's fault" and that he is taking full responsibility for his actions. Also, he announced vaccine was very close to be ready and further announcements will only take weeks. This comes although most scientists in America have said a vaccine developed in the country is unlikely to be available until mid-2021. As it was previously announced, in this last debate microphones were turned off every time the other candidate was speaking.
Another matter of discussion was tax returns. Democratic candidate Biden said he has "not taken a penny from any foreign source ever in my life", in response to Trump's accusation that he had received Russian funds. Biden then asked the President to be clear about his taxes, by releasing his tax returns "or to stop talking about corruption". Trump responded he would like to release them "as soon as he can" but that he can not because he is "under audit", a response he has been giving since 2016, although there is no bar for releasing important documents while under audit. Climate and immigration were also a matter of discussion, along with the Black Lives movement. Trump accused Biden and Obama of ignoring issues of racial justice when they were in power, saying they "have done nothing but the crime bill which put tens of thousands of black men in jail."
Overall, the candidates seemed much more disciplined and now millions of people are debating on who won the showdown. CNN debate poll results were a 53% Biden – 39% Trump, while ABC7news gave a 51% Trump – 49% Biden. The 2020 US Presidential election is now less than two weeks away.
READ MORE: