US President was diagnosed with coronavirus on Friday and instead of remaining in isolation, he left the hospital to return to the White House.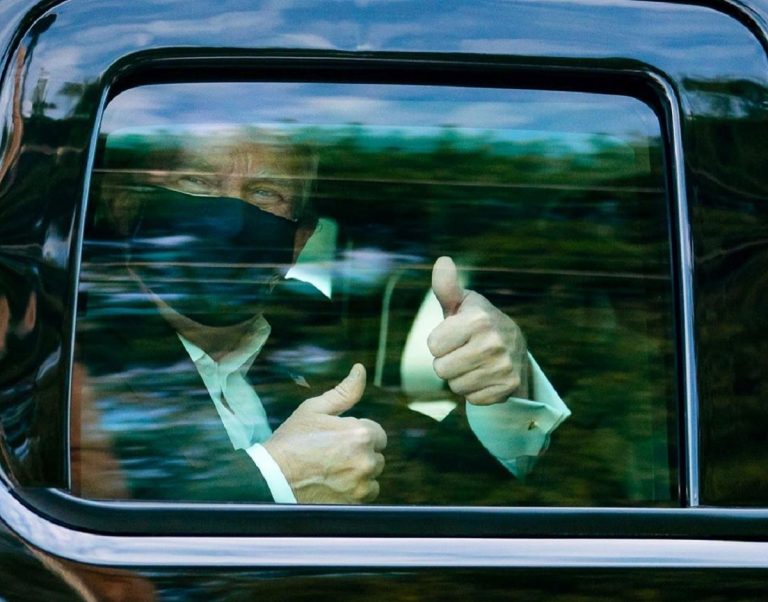 The US President Trump was diagnosed with Covid in the early hours of Friday, he should remain in isolation for at least 10 days and instead, he decided to walk out of the hospital, while still contagious.
Covid, infected Trump returns to White House
American people will be facing a huge choice on November 3, when the 2020 presidential election will take place. America was hit hard by coronavirus, that so far killed around 211,000 people. It must have been confusing for American people to watch their president and current candidate, leaving Walter Reed Hospital after being diagnosed with coronavirus on Friday.
Trump returned to the White House on the presidential helicopter Marine One. After the ride, he showed himself to photographers removing his mask on the Truman Balcony and giving thumbs-up.
The US President posted a video giving a huge statement to the American people, telling them not to be afraid of coronavirus.
"Don't let it dominate you. Don't be afraid of it". Then continued: "You're going to beat it [coronavirus]. ..We have the best medical equipment, we have the best medicines, all developed recently. ..We're going to be out front. As your leader, I had to do that. I knew there's danger to it, but I had to do it. I stood out front, and led. ..Now I'm better, maybe I'm immune, I don't know".
Trump had his first presidential debate with the other candidate Joe Biden on September 30. After returning to the White House, Donald Trump tweeted "he will be back on the campaign trail soon". The US presidential election is indeed very close, only four weeks away.
READ MORE: