Violence continues in Northern Ireland: riots and violence in Belfast.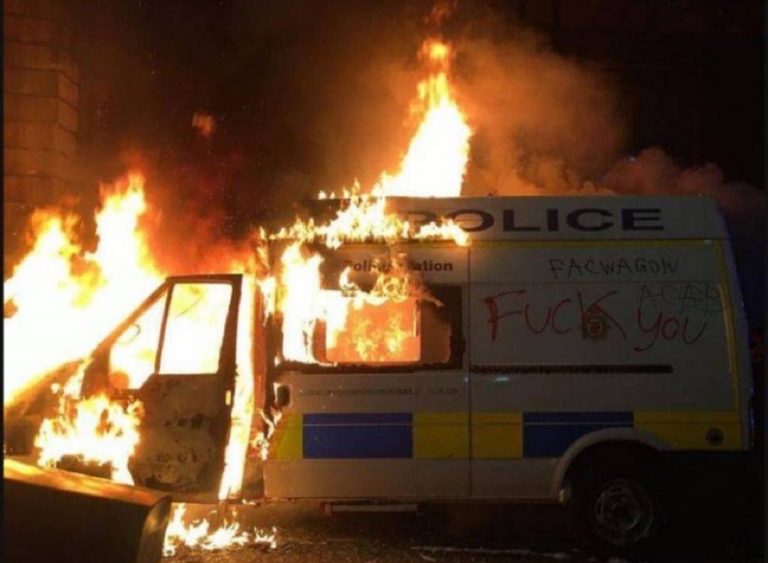 After six consecutive nights of violence in Belfast, Northern Ireland, Stormont will hold an emergency meeting.
Northern Ireland: violence in Belfast
People didn't stop protesting in Belfast. They set fire to a bus, dropped gasoline bombs and provoked other violent acts. It is the sixth consecutive night that this is happening in some loyalist areas of Northern Ireland.
The police announced that 7 officers were injured while trying to quell the uprising. Violent, in fact, were the clashes between Shankhill and Springfield Road in west Belfast. On 8 april morning, the Executive held a meeting to discuss what is happening and which began on Good Friday, a historic event for the Northern Ireland peace process.
The reasons for the violence
What are the reasons behind all this violence that has been going on for days?
Loyalists disagree with Northern Ireland's new trade agreements. There has also been an implementation since Brexit, due to a specific protocol. Given that Northern Ireland is still part of the EU market as a result of Brexit, there are customs controls on imported goods from the UK.
However, this has created a border in the Irish Sea, which doesn't allow a land border to be built on the island of Ireland. However, it is crucial for the Good Friday peace agreement, which marked the end of years of violence between loyalists and republicans.
Loyalists argue that Ireland should be part of the United Kingdom. They believe that these provisions don't include Northern Ireland from Great Britain. So this is an affront, because it threatens the British identity. Even the Democratic Unionist Party in government, which had supported Brexit, now leads a campaign for the demolition of the protocol.
Davy Beck, Chief Superintendent of the PSNI, said the riots these days are organized by criminal elements and the police will investigate them. They will view images and videos and identify all the people involved.