As a consequence of this storming, four people have died: one was shot, three as a result of medical emergencies.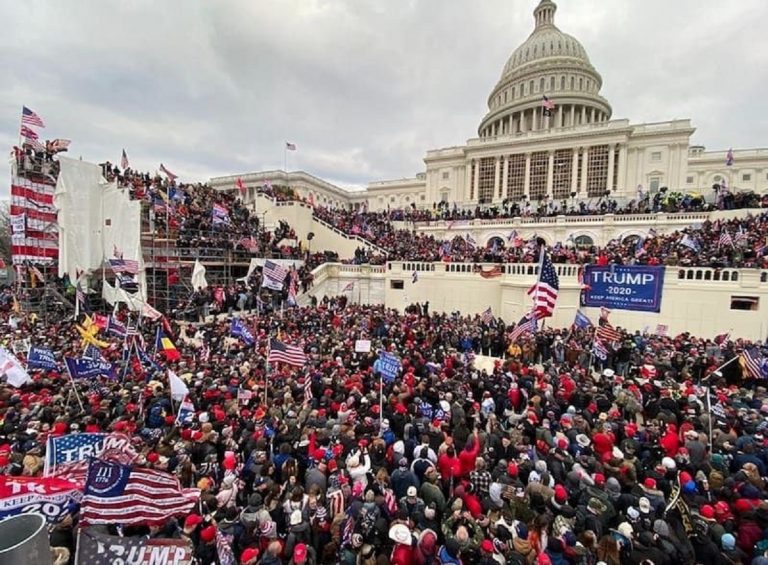 As members of the Congress were gathered to ratify Joe Biden's election, pro Trump mob assaulted the US Capitol causing riots and interrupting the democratic process.
US riots, pro Trump mob swarms the Capitol
It happened yesterday, on Wednesday, January 6th.
Trump supporters crossed police barricades and entered the Congress as it was reunited to certify Biden's victory.
Interrupting the democratic process, Trumpists took possession of the Congress. In fact, while those domestic terrorists were outside trying to access the room, security officers had to help lawmakers escape from it.
Eventually, the Capitol has been secured. During the operations, Washington DC Metropolitan Police found five guns, two pipe bombs in the headquarters of the Republican and Democrat Committees. Moreover, they seized a cooler containing Molotov cocktails in a vehicle outside the Capitol.
As one would have expected, riots had some consequences. Four people have died: one after having been shot, three as a result of medical emergencies. Furthermore, DC Police arrested more than 52 people, 47 of which for curfew violation. Indeed, DC Mayor Muriel Bowser ordered a curfew to begin at 6pm (11pm UK time).
In the end, the Senate managed to continue ratifying Biden's presidency.
As the riots were unfolding, politicians reacted with outrage and disconcert. Mr Biden said US democracy was under "unprecedented assault", adding "it's not a protest, it's an insurrection".
House Republican Conference Chairwoman Liz Cheney was also bewildered. "There is no question that the President formed the mob, the President incited the mob, the President addressed the mob. He lit the flame".
Republican Senator Tom Cotton urged Trump to accept his loss and "quit misleading the American people and repudiate mob violence".
Throughout those acts of terrorism, Mr Trump never disassociated himself from the mob, just asking them to remain peaceful. Later, when waters were settled, he tweeted. "These are the things and events that happen when a sacred landslide election victory is so unceremoniously & viciously stripped away from great patriots who have been badly & unfairly treated for so long. Go home with love & peace. Remember this day forever".
Twitter cancelled his post and locked the President's account. Facebook followed the example.