After taking the oath in the hands of the chief of the Supreme Court, Joe Biden officially became the new President of the United States.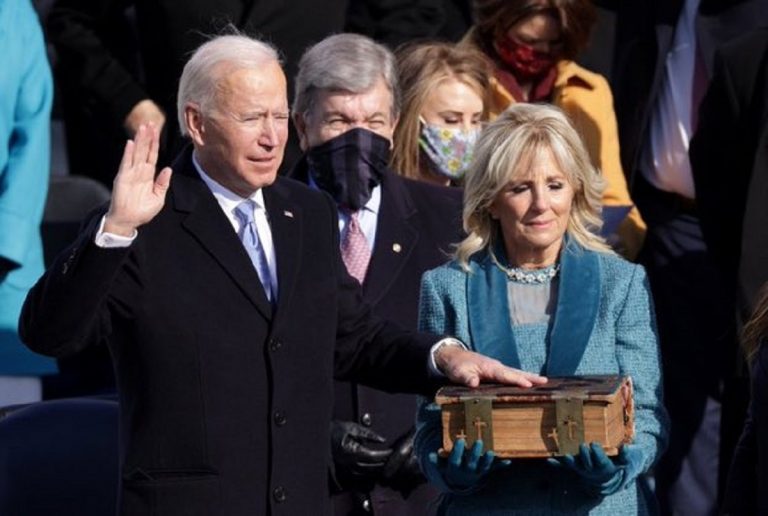 Almost three months into the election and after Congress ratified the victory, the inauguration ceremony of the new American President Joe Biden began. His oath began around midday local time at the Capitol headquarters, in a Washington DC invaded by thousands of American flags in symbolic replacement of people who were unable to attend the event due to anti-coronavirus regulations.
It's a new day in America.

— Joe Biden (@JoeBiden) January 20, 2021
Joe Biden's inauguration ceremony
After the speeches of Democratic Senator Amy Klobuchar, Republican Senator Roy Blunt and Jesuit father Leo O'Donovan, it was the turn of the American national anthem sung for the occasion by Lady Gaga. The flag was sworn in by South Fulton, Georgia's fire captain Andrea Hall, the first African-American woman to hold the post.
Next came the turn of Kamala Harris, who took the oath in the hands of Supreme Court Judge Sonia Sotomayor., while just after the musical interlude of Jennifer Lopez it was time for the oath of Joe Biden, who recited the ritual formula by placing his hand on the family Bible and uttering the following words: "I solemnly swear to faithfully fulfill the office of President of the United States, and to preserve, protect and defend the Constitution of the United States to the best of my ability".
Just before the ceremony began, there were many messages of encouragement and good luck from the American political class. Former President Barack Obama, of whom Biden was Vice President from 2008 to 2016, tweeted: "Congratulations, my friend, your time has come", while Vice President-elect Kamala Harris said: "I am here today thanks to the women who preceded me".
Congratulations to my friend, President @JoeBiden! This is your time. pic.twitter.com/LXzxGnBAfz

— Barack Obama (@BarackObama) January 20, 2021
The speech of Joe Biden
Immediately after taking the oath, Biden began his inaugural speech in the presence of the few authorized spectators in Washington: "The future of America does not depend on one of us but on all of us. We are a great nation and we have a long way to go. There is still so much to repair. Help me to unite America".
The president then spoke at length about the consequences of the pandemic on the future of the United States: "The Covid echoes a cry for justice and equality. A scream never so loud as now. A scream that we will welcome. America needs democracy and union. Together we can do so much, if we are united we will never lose. Let's start again now. [… ] I will be the president of all. No more war".
READ MORE: Donald Trump leaves White House for last time as US President