United States President Donald Trump left the White House with his wife Melania, defecting to Biden's inauguration ceremony.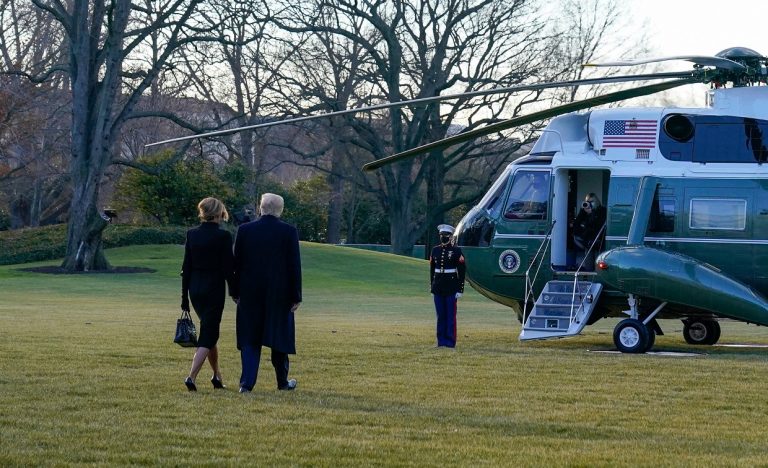 Donald Trump signed off after four years as president with the blasting soundtrack of the Village People's YMCA in the background and by saying: "Have a good life, and we will see you soon."
Donald Trump leaves White House
Donald Trump was speaking to a crowd of supporters at the Joint Base Andrews Air Force, shortly after leaving the White House for the final time on Wednesday.
He said: "It is my greatest honour and privilege to have been your president."
The crowd chanted back "thank you Trump". Trump delivered the ad-libbed speech before he and his family boarded Air Force One in order to fly to his beach home in Florida, a number of hours before his successor Joe Biden is sworn in as the 46th president.
Donald Trump will become the first president not to observe the transfer of power in 152 years having left Washington D.C. ahead of the inauguration,
In the speech, he wished the incoming administration good luck without mentioning Joe Biden by name, and suggested that the United States' future had "never been better" due to his tenure as President.
On departing the White House, Trump said: "It's been a great honour, the honour of a lifetime."
Despite leaving the White House, Trump will shadow Biden's first days of his presidential term. Trump's second impeachment trial could also commence as soon as this week. The Senate which is set to come under Democratic control will have to balance impeachment proceedings with the confirmation hearings and votes on Biden's Cabinet choices.