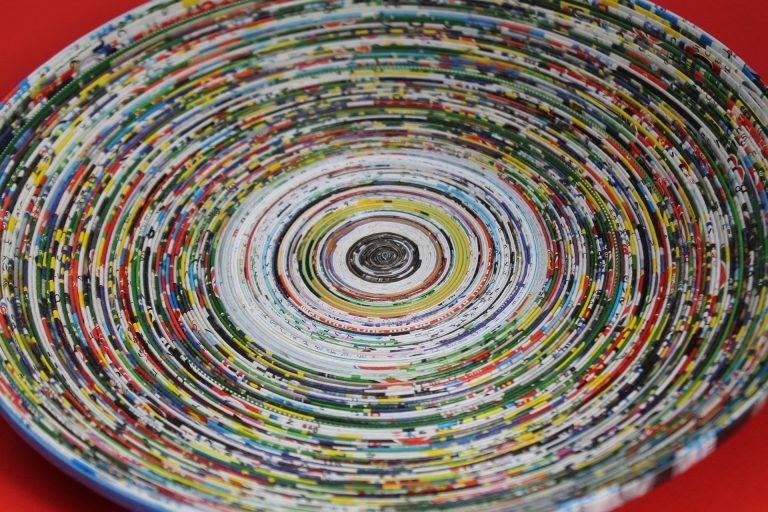 Thanks to recycling, we can use our imagination to give things a new shape and a new life. The creative recycling of plastic and paper allows us to reuse old objects and, at the same time, get new things without spending money.
In particular, it is very easy to reuse paper, also because it is the most common material in our homes. Just think of the amount of magazines and newspapers that we often end up throwing away. If you want to reverse this trend, collect all the paper you have and turn it into something beautiful, useful and ecological.
Here are some ideas.
How to Reuse Paper in a Creative Way
There are so many ideas online to creatively reuse paper. Depending on how much you are into DIY, you can create both simple objects such as frames and real furnishing accessories. A very simple but impressive project is, for example, to create coloured paper flowers to put in a vase. All you have to do is cut out the paper in the shape of petals and then glue them together. You will then have to make the stem with wire and always cover it with paper or colored straws.
To recycle those magazines with thicker and more glossy pages, you can create a nice basket. First, cut the pages into strips a couple of centimetres thick. Then brush them with glue and stick 3 on top of each other to make them thicker. At this point you just have to weave your strips, fixing them from time to time, and give shape to your basket. You can help yourself by using a container you have at home as a guide.
Decoupage with Newspaper
Newsprint can be reused to experiment with the art of decoupage. For example, you can cover an old wooden table to adapt it to a more modern environment. Simply lay the sheets of newspaper on top of each other and brush with vinyl glue to make them stick to the table. When the work is complete, wait for it to dry and fix it with a quick lacquer.
Eco-chic Garland with Toilet Paper Rolls
Finally, you can also give new life to the rolls of toilet paper by making it an original garland. First of all, cut the rolls into several parts to obtain many circles. After that, fold them to give them the shape of a leaf. Then assemble them as if to form a garland, gluing them together with vinyl glue. Colour it with the acrylic colours in the shades you like best and add ribbons to embellish your creation. Your house will look great next Christmas!