The Prime Minister talk about his strategy following emergency Cobra committee meeting on the Coronavirus strain.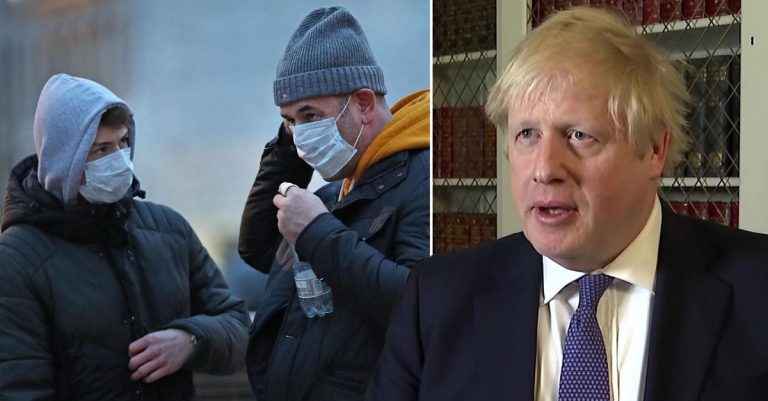 After 40 people have tested positive in the UK, Boris Johnson will banning mass gathering and stopping people travelling to infected towns and cities. The Government's battle plan could also feature encouraging people to work from home, discouraging unnecessary travel and the ability to shut down schools temporarily.
Other sweeping powers include allowing officials to turn away or even arrest suspected carriers at the border.
Boris Johnson reveals coronavirus action plan
The Prime Minister talk about his strategy this morning following yesterday's emergency Cobra committee meeting on the Covid-19 strain.
The Prime Minister who accompanied by Chief Medical Officer Professor Chris Whitty and Chief Scientific Adviser Sir Patrick Vallance in Downing Street at press conference said "I fully understand public concern, your concern, about the global spread of the virus and it is highly likely that we will see a growing number of UK cases, and that's why keeping the country safe is the government's overriding priority." "Let me be absolutely clear that for the overwhelming majority of people who contract the virus, this will be a disease from which they will speedily and fully recover, as we've already seen." Setting out a strategy of 'contain, delay, research, mitigate', he said: "Lets not forget we already have a fantastic NHS, fantastic testing systems and fantastic surveillance of the spread of the disease."
He added: "The plan does not set out what the Government will do it sets out the steps that we could take at the right time at the basis of the scientific advice. Out country remains extremely well prepared." Johnson insisted that he has been "shaking hands continuously" including at a hospital he believed contained coronavirus patients. He added: "I continue to shake hands and I think it's very important. People can make up their own minds." Re-emphasising the current golden rule of coronavirus prevention, Johnson said: "Forgive me for repeating this but there will be people tuning into this for the first time, wash your hands with soap and hot water, for the length of time it takes to sing Happy Birthday twice, it's simple advice but it's the single most important thing we can do as I think our experts will attest."
Johnson also added that army and police "well established plans' to handle the kind of crisis that could be triggered by the Covid-19 spread. He refused to be drawn on specific Ministry of Defence plans but said the country's public services would be 'going about their business in a normal way". They also told to Briton not to cancel their holiday because if the disease. It because the disease "will be everywhere". Sir Patrick said: "A lot depends on where the outbreaks are, so at the moment the outbreaks are across Europe and across most of the world in one form or another, and they're contained in many places but becoming uncontained in some places." Once the epidemic is everywhere then actually restricting travel makes no difference at all, and at the moment we're certainly not recommending any changed behaviours in relation to that.
"If it grows in the UK then of course it doesn't really make any sense to say that you're at more risk somewhere else than you are here." Nevertheless Professor Whitty said it can be 'more problematic' for travellers to go to a country with a weaker health service in the midst of the global outbreak. Witty also told that NHS will give the patient treatment depend on the greatest needs and reassured that the 'great majority' will survive the outbreak, even among the elderly. For school, the worst case scenario is being shut down temporarily. But the panels still keep all options under review. The Prime Minister said that "We don't think the schools should be closing in principle. But schools should be following the advice of Public Health England."
Professor Whitty said there is no evidence of children being badly affected by the disease, which has killed mostly older people and those with pre-existing health conditions. Then, the Health Secretary Matt Hancock said officials "might have to" postpone this year's London Marathon to stop the spread of coronavirus. Ahead of this morning's meeting Johnson said the government warned it is 'highly likely coronavirus will spread more widely in the coming days and weeks'. He said: "We have agreed a plan, which I will set out in detail today, so if the virus should spread, we are ready to take necessary steps to contain it and protect the most vulnerable. But we can all continue to do our bit to fight this virus – by washing our hands with soap and water for the length of time it takes to sing Happy Birthday twice."