The list of all the winners of Oscars 2021.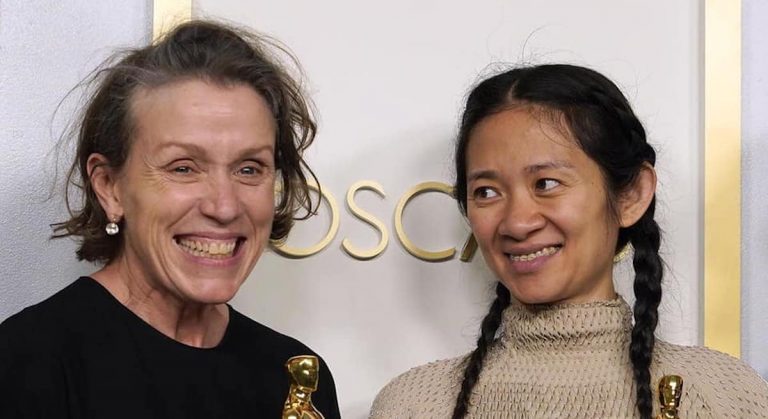 Yesterday was the 93rd edition of Oscars in Los Angeles. The event was special and unprecedented, and there was no lack of emotions for the winners. But who are all the winners of Oscars 2021?
The winners of Oscars 2021
The ceremony began with the award of the screenplay award to actress Emerald Fennell for Promising Young Woman. Normaland won three awards: Best Film, Best Director and Best Actress (Frances Mcdormand). Anthony Hopkins won the Best Actor Award in The Father, and Daniel Kaluuya the Best Supporting Actor Award in Black Panther Judas and the Black Messiah.
Chloé Zhao won the Best Director Award which is however the second woman to win the award. The woman thanked from the heart all those who allowed the realization of the film.
The Black Bottom team made Mia Neal and Jamika Wilson the first black women to win the Oscars for makeup and hairstyle. Meanwhile, Ann Roth won the costume award in the same film.
Yuh-Jung Youn won the award for Best Supporting Actress and passed there Glenn Close and Olivia Colman, while Laura Dern awarded the international feature film award to the Danish film Another Round. Sound of Metal won the sound award, while If Anything Happens I Love You is the best animated short film. The best feature is Soul.
Actress Marlee Matlin presented the Oscar for a short documentary to Colette, while My Octopus Teacher, on filmmaker Craig Foster, won the Oscar for the documentary. Nolan's science fiction film Tenet won the Visual Effects Award. The Oscar for Best Set Design went to Mank, which also won for his cinematography. The Oscar for Best Song was won by Fight For You by Judas and the Black Messiah by HER.