There is a magical place in Peru where you can walk in a rainbow of colors. People call it the "rainbow mountain", but its geographical name is Vinicunca. Its particular color is due to the fact that millions of years ago materials such as iron, dolomite, sulphur, copper and hematite deposited on the mountain, which today create this effect. It's still a unique and uncontaminated place because to see it you have to go on a demanding trekking at high altitude that can last several days.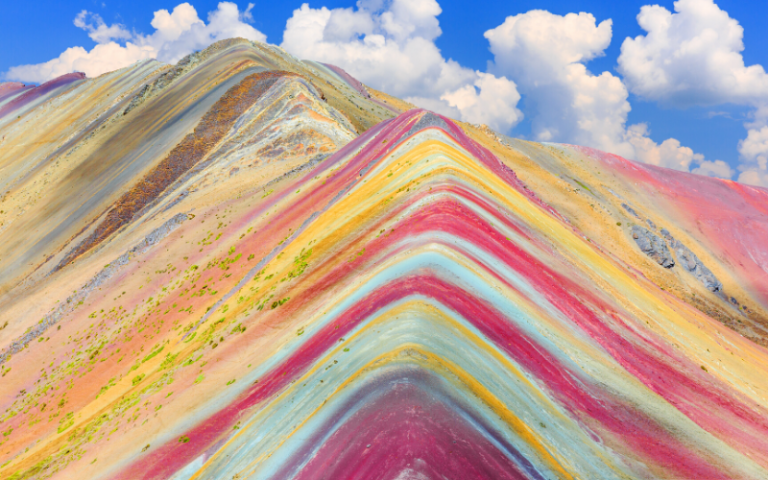 There is a magical place in Peru where you find yourself walking in a rainbow of colors. We are talking about the Montaña de Siete Colores, the "rainbow mountain", but its geographical name is Vinicunca. It is a mountain 17,000 feet high that is part of the Andes.
Vinicunca is one of the most beautiful landscapes that nature has to offer. It seems, in fact, that it has stolen a palette of colors from a painter and scattered them creating rainbows. Tones of ochre, orange, blue, purple, green, and yellow color the mountains.
This mountain has long remained hidden under a thick layer of ice, which once melted, brought out a new world.
Why Is It a Rainbow Mountain?
National Geographic has included it among the 100 places to visit absolutely. And it could not be otherwise, since we are talking about a unique landscape in the world. The Vinicunca mountain is in the Andes mountain range, 60 miles southeast of the city of Cusco. People commonly call it "rainbow mountain", or "mountain of the seven colors", because of the colorful shades that cover the rock walls.
This unique phenomenon has a scientific explanation. Millions of years ago, materials such as iron, copper, dolomite, sulphur and hematite started to deposit on this mountain. The result is precisely this extraordinary effect.
When and How to Visit Vinicunca
It is not easy to reach Vinicunca. However, with some training and willpower you can plan a day of trekking, for example after visiting the nearby Cusco and Machu Picchu. The best solution is to book an excursion organized by a local tour operator. Many of them leave from Cusco, and they last a whole day.
From the starting point to the top of the mountain there is a difference in altitude of about 3,200 feet. The route therefore includes uphill and flat sections. The time limit for ascent and descent is around 8 hours in total. But it is worth the effort to reach the summit. The view in front of your eyes is a real wonder of nature. Sedimented stones and minerals give this mountain its unique colours, so intense and varied that it seems to admire a huge watercolour.
Until a few years ago it was much more difficult to reach the "rainbow mountain". However, thanks to the new paths, the route has become easier, and this wonder attracts up to a thousand visitors a day between June and September.