Soaking up the Vegas atmosphere is absolutely free of charge.
Las Vegas does not come across as a budget destination for many of us. Plenty of time spent in the casino and not knowing whether you'll come out on top can get expensive. Enormous buffets every dinner time can also be expensive, particularly if you're travelling as a group. Ticketed pool parties, ticketed concerts, ticketed circuses, they all cost money too. Add to that the expense of a plush resort hotel and you're looking at a vacation that could cost thousands and thousands.
Enjoy the Very Best of Vegas on a Budget
However, the truth of the matter is, if you're a little savvy, spend some time doing your research, and get lucky with some great deals, then it is totally possible to enjoy Vegas on a budget. To get you started on your dream vacation, we've done a little of the hard work for you.
Work Out Your Game of Choice
Before you set foot in a casino, it's a good idea to work out which games you enjoy the most and maybe the games that you are best at. If you've never played casino games before then you could end up making quite a dent in your spending money by figuring out how they all work one by one. Instead of doing that, familiarise yourself with the main ones before your trip even begins. Once you know the rules of all of the games, you'll already have an idea which you enjoy the most. The next thing is to ready yourself for the changes between playing online and playing in a real casino. For example, when it comes to playing slots games online there are so many different ones to choose from, but in a casino, even a Vegas one, the choice is a little more limited. With that said, there's a special something about the atmosphere in a casino that can't quite be replicated online. You'll quickly find out whether you're an online or in-person player at the casinos, but having a little experience online will help you to feel more at home either way.
Enjoy The Buzz
One of the best things about being on vacation is getting to explore a new city. The good news is that a lot of that exploring can be done totally for free! A stroll down the Las Vegas Strip is free of charge and the best way to familiarise yourself with the area. You'll walk past casinos, clubs, bars and restaurants, all brightly lit with neon signage. You'll instantly get a feel for the place and you might even spot somewhere that you want to visit later on. For those who are feeling a little daredevilish, you might want to try the famous zipline that runs the length of the strip. Although this sadly isn't free, it's very reasonably priced and, as well as an adrenaline rush, it'll allow you to see one of the best bits of Vegas – its world-renowned skyline. Getting up high, you'll be able to look down on all of the famous buildings below. Once you've finished your walk along the strip you must visit the Bellagio fountains, where every half an hour there's an incredible show – also totally free.
Stuff Yourself Silly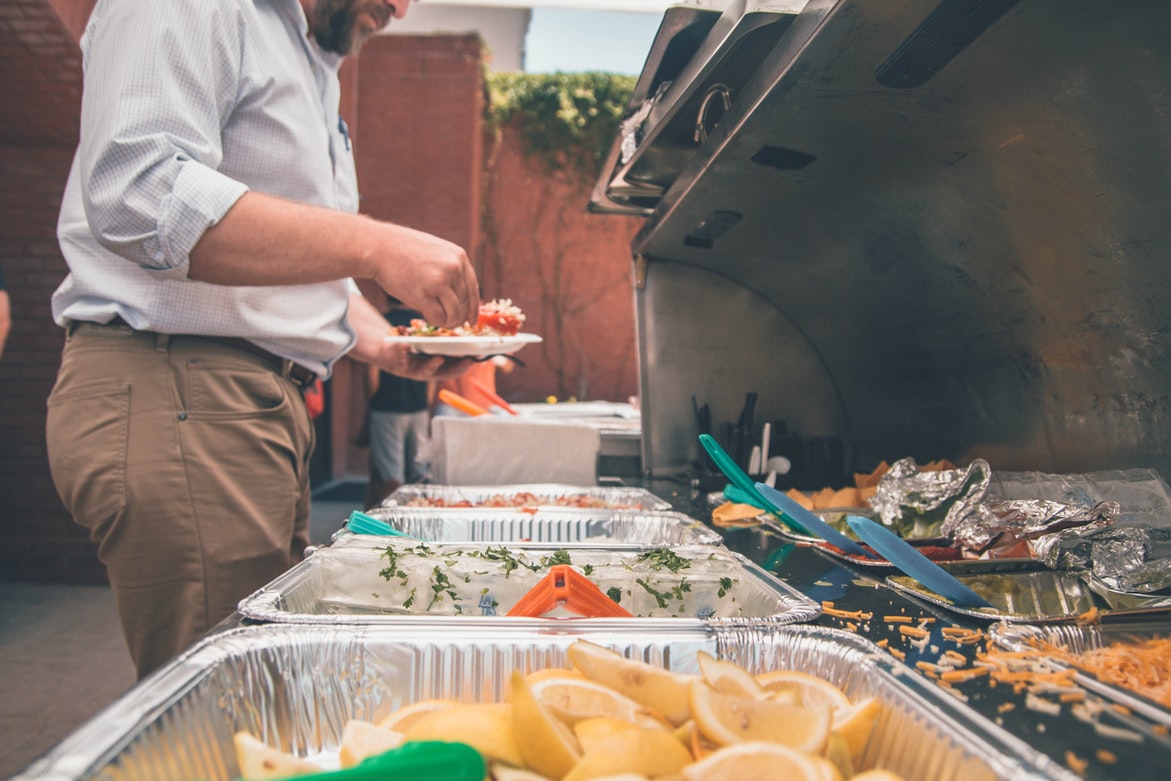 Enjoy a buffet at lunchtime to save money
When travelling to Vegas, some people avoid the buffets as they are known for being quite expensive. However, many of them offer lunchtime specials which makes the whole experience a lot more affordable. At the majority of the top buffets, you can expect a 30% discount at least on lunchtime dining and you'll generally receive the same brilliant experience. Sometimes there will be a slightly smaller menu on offer, but you can always find out by going online beforehand. A Vegas buffet is something that everyone should experience properly at least once in their lifetime, so be sure to arrive hungry. Take your time over your food, enjoy every mouthful and by the time you leave, you'll be so full that you won't need an evening meal! That's two money-saving tips in one go.