Creative director Alessandro Michele invited Gucci brand ambassadors to realise Gucci Beloved, the TV special dedicated to the fashion house.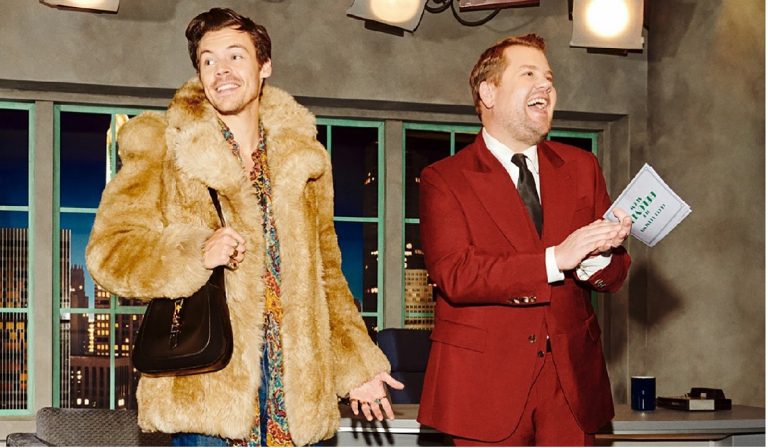 Who will be the guests to a Gucci talk show look? Of course, house ambassador Harry Styles would be the first to arrive to Gucci Beloved, the TV special dedicated to the fashion house and hosted by James Corden. Creative director Alessandro Michele invited the brand ambassadors to realise this chat show.
Gucci Beloved: the famous guests
Hosted by James Corden, with his long experience at The Late, Late Show, Gucci Beloved included guests such as Dakota Johnson, Sienna Miller, Diane Keaton, Serena Williams and Awkwafina. The celebrities showed the brands Beloved accessories to the cameras.
Harry Styles accompanied his classical Gucci uniform with his favourite Jackie 1961 bag by his side. This bag is the house signature, and it's inspired to the style of '60s icons. The one sleek half-moon shoulder bag was reimagined by Michele for autumn/winter 2020.
Dakota Johnson arrived with the Dionysus bag, which debuted during Michele's first womenswear presentation for autumn/winter 2015. This bag draws its inspiration from the mythological pools, and it's influenced by the Greek god of wine, pleasure and festivity.
Also Sienna Millere arrived with her own Gucci Jackie 1961 in the brand's GG canvas. On the other hand, Diane Keaton showed to the cameras her Gucci Horsebit 1955 bag. Both Serena Williams and Awkwafina arrived with GG Marmont bags.