Last week pupils returned to school throughout the UK, but precautions were not enough to avoid new outbreaks.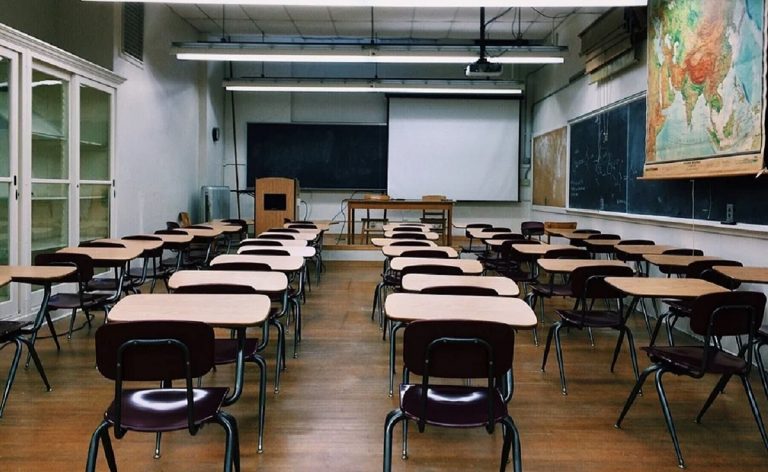 It is confirmed that there are positive cases at Covid-19 in 62 schools in the UK since the students returned in the classroom last week. Many schools have been forced to close and tell hundreds of pupils to isolate themselves following the outbreaks.
Covid-19 cases continue to rise and 62 schools in Northern Ireland, Wales, Scotland and England were forced to close and to leave at home hundreds of students in isolation. Scotland was the hardest hit.
Here are some details about Covid-19 in the UK.
England
Dixon Academy Trust in Bradford and Leeds which runs 12 academies has confirmed that two staff members and one student is positive for Covid-19 at three academies. Then at Unity College in Year 7 caught the bug on the very first day with no symptoms but immediately took by his family and told to self-isolate.
In Chapel Hill, the staff at St Cecilia's RC High School tested positive on September 5. No pupils are affected but 12 staffs have been told to self-isolated for 14 days. Chesham Grammar School has an unknown number of pupils caught the virus since last week. Most of them get infected abroad during the school holidays. Hadden Hill Nursery in Didcot has someone positive for Covid-19 and the school will be closed until September 11.
Then in Hartlepool, in the St Aidan's primary School there is a pupil or staff member positive for the virus. However, the Headteacher is taking advice from Public Health England to not to close parts of the school or ask any children to self-isolate. Bardsey Primary School in Leeds has a member tested positive and the rest of the school set for another week of home learning.
The Winstanley School in Leicester has recorded a case. Then in Marlow has been an outbreak amongst Sir William Borlase's Grammar School pupils with unknown pupils get infected.
A pupil at Ridgeway Primary Academy in Market Harborough has tested positive and have been asked to self-isolate for 10 days. While other pupils who were in close contact with the child have been asked to self-isolate for two weeks.
A Strood Academy in Medway has employee and three other members of staff have a positive case at the school. Mellers Primary School in Nottingham has been forced to close after a teacher-tested positive for Covid-19. Not only that. The JCB Academy in Rocester was shut on Friday following a positive case. While Rossendale Borough Councillor has confirmed that several cases have been traced back to one school in Whitworth
Northern Ireland
Now in Northern Ireland, there is at least a children get infected by Covid-19 at St Joseph's College in Belfast, De La Salle College and Larne Grammar School, Jonesborough Primary School in Jonesborough and Holy Family Primary School in Magherafelt.
Scotland
Later in Scotland, there is a positive case at Oldmachar Academy in Aberdeen. Newhill Primary School in Blairgowrie, Lasswade High School in Bonnyrigg, Grove Academy in Broughty Ferry, SS Peter and Paul's RC Primary School, Queen Anne High School in Dunfermline, Dalkeith High School in Edinburgh, James Gillespie High School, Preston Tower, Balbardie Primary School, Lasswade High School, Dalry Primary School, Dalmarnock and St Martha's primary school, St Anthony's Primary School in Johnstone, Govan High School in Glasgow, Mossvale Primary in Paisley, Wallace Primary in nearby Elderslie and Granton Primary School.
A pupil from Newburgh Primary School and a nursery in Fife, Queen Anne High School, St Matthew's Academy in Saltcoats, Granny Smith's Nursery in Troon, have positives for Covid-19. Afterwards number of pupils at Bannerman High School in Baillieston, Hermitage Academy, Oakbank Primary School, had tested positive. Then a staff also positive at Kinmylies Primary School in Inverness
Currie Community High School asked 96 students and staff to self-isolate following a confirmed case. Kingspark School in Dundee had a major outbreak that was connected to 40 cases. The small school for students with additional needs is due to reopen on September 7 after 18 days shut due to the cases. Those affected were 23 staff members, three pupils and 14 community cases.
Wales
In Wales there is a staff who get infected as following these schools such as St Gwladys Primary School in Bargoed, Ysgol Bryn Castell in Brynmenyn, and Maesteg School, Woodlands Community primary in Cwmbran. There was one positive test recorded at Ysgol y Dderwen primary in Carmarthen.