Lag B'Omer celebrations turned to tragedy last night, over 40 people died and 150 people are injured because of a stampede.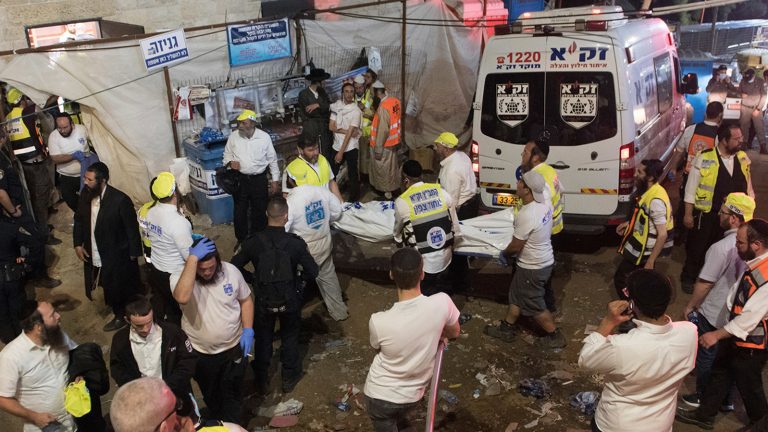 A crowd disaster happened last night in the Upper Galilee, in Israel. Believers gather every year in northern Mount Meron to celebrate Lag B'Omer religious festival. At least 44 people died in the crowd crush and 150 people are in hospital injured at the moment.
Thousands of Orthodox Jews go on pilgrimage to the tomb of Rabbi Shimon Bar Yochai, a revered second-century sage, for annual commemorations. During Lag B'Omer it is customary to light bonfires, pray and dance all night.
Crowd disaster in Israel caused 44 deaths
The tragedy occurred around midnight, but most of the people trapped in the crowd didn't realise what was going on. The cause of the stampede wasn't clear on the spot. Media firstly reported that the cause was a grandstand collapse, but later the rescue service explained that all the injuries were due to the stampede.
Videos published on social media show an enormous amount of people crushed together in narrow spaces. A direct witness, Dvir, told the Army Radio station that "masses of people were pushed into the same corner and a vortex was created." According to his account, a first row of people fell down, followed by a second one. Then the pressure of the stampede throw him down too. "I felt like I was about to die" – he said.
The Israeli military step in to help the injured with medical staff. Then search and rescue teams were sent along with helicopters. But Eli Beer, director of the Hatzalah rescue service, said he was astonished by the dimensions of the crowd, as they were equipped to handle a quarter of the participants.
It was the largest event in the country since the beginning of the pandemic. The successful vaccination campaign, started at the end of 2020, made the celebration possible. The easing of restrictions against Covid-19 enabled a huge number of believers to gather, despite health officials' contrary opinion.
Israeli Prime Minister Benjamin Netanyahu told the incident was a "heavy disaster". Then he added: "We are all praying for the wellbeing of the casualties."