The vessel stuck on the banks of Suez canal, which has blocked one of the world's busiest maritime trade routes, has been freed early this morning.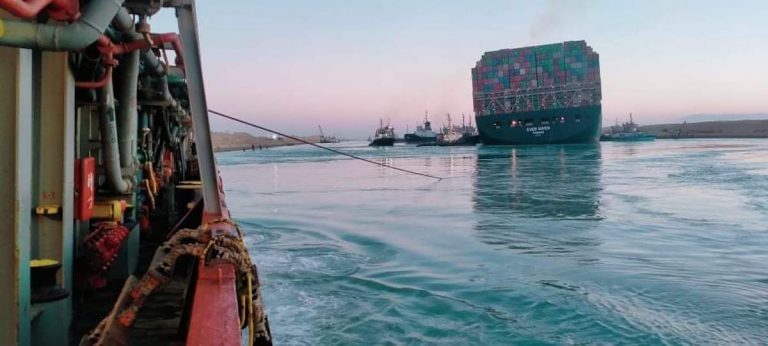 Early on Monday morning Ever Given vessel refloated after being stuck on the banks of Suez canal for six days.
According to Inchcape Shipping Services, the 400-metre-long container ship successfully budged at 4.30 am local time. As can be seen on a video posted online at 9 am, Ever Given vessel is now floating on its own surrounded by tugboats.
Ever Given vessel is back to float
The 200,00-ton vessel became stuck across a southern section of the Suez Canal early on 23 March due to the high winds. Japanese-owned Ever Given ship has blocked the waterway between Europe and Asia for six days. Therefore there are at least 369 ships waiting at the entrance of the canal, whereas others have decided to reroute around the Cape of Good Hope. The Suez blockage has also provoked a temporary increase in prices for oil and freights and delays in shippings around the world.
Hopes of restoring the traffic raised, when the ship's rudder was freed. Abdel Fattah Al-Sisi, president of Egypt, forecast the need to lighten the ship. But the process would have taken too much time, causing weeks of delays. This is why the salvaging team fought changing wind conditions and the tide all day long, in order to take advantage of a high spring tide on Sunday night.
Ship tracking websites showed the ship finally moved from its position on the early hours and the bow pointing northwards away from the east bank. The salvaging mission succeeded after hours of strenuous efforts to dislodge thousands of tonnes of sand and to push and pull the ship with ten tugboats.
The accident was probably caused by a mass rock found at the bow of the ship. As stated by Suez Canal Authority (SCA), efforts focused on digging to remove parts of the bank and expand dredging around the bow to a depth of 18 metres.