The fire started on Sunday and spread really quickly: The Jagger Library and other historical buildings of University of Cape Town in South Africa were damaged.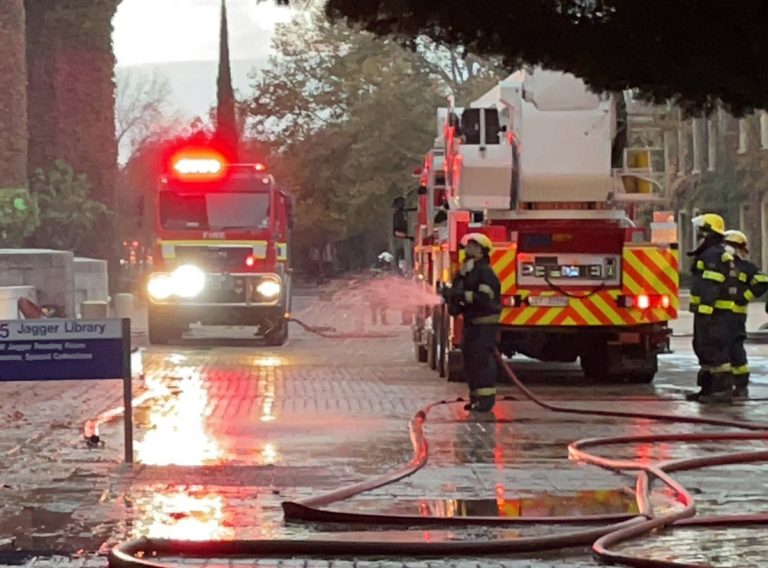 A fire on the slopes of South Africa's Table Mountain forced University of Cape Town students to escape campus.
The Jagger Library in South Africa University caught fire
According to local news, The Jagger Library caught fire and two floors were burned town, making 4,000 students evacuated. Mostert's Mill, the oldest working windmill in South Africa (1796) was damaged by the fire, as well as historic structures of the campus.
The University tweeted «all UCT students have been evacuated from campus by emergency services support staff». SANParks, which runs Table Mountain National Park, thinks the fire was not arson and had been started by a homeless person.
Dan Plato, mayor of the City of Cape Town, said «It is tragic that literary treasures have been lost at the UCT library, but I have been informed that some of the most valuable works were saved by the quick activation of roller doors.
«Our attention and support remains with firefighters and all role players working to protect further loss of property».
Some archival material such as rare books, manuscripts and photographs preserved in the library were ruined during the fire.
Absolutely gutted. Jagger building at UCT completely destroyed by #CapeTownFires #uctfire @TimesLIVE pic.twitter.com/pZqKhqF9fE

— 𝕬𝖓𝖙𝖍𝖔𝖓𝖞 𝕸𝖔𝖑𝖞𝖓𝖊𝖆𝖚𝖝 (@AJGMolyneaux) April 18, 2021
The University's vice-chancellor, Prof Mamokgethi Phakeng, said that «all academic activities will be suspended [Monday] and on Tuesday».
«No classes, tutorials, laboratory work or tests will take place on Monday, 19 April or Tuesday, 20 April. We will assess the situation and provide further updates before midday on Tuesday» said Prof Phakeng.
She also added that food and emergency accommodation are offered to all the evacuated students.
The fire spread really quickly
The fire started on Sunday near a memorial to politician Cecil Rhodes, located on Devils Peak. More than 100 firefighters were deployed to the university campus and one of them was injured and taken to the hospital.
Table Mountain National Park fire manager Philip Prins explained the fire spread really quickly due to the mountain being «very old pine trees and their debris». «The fire created its own wind that further increased the rate of spread» he said. «The excessive amount of smoke and related updrafts made it impossible for the aerial support to slow the spread».
Residents must be on alert, said Charlotte Powell, a spokesperson for the city's disaster risk management centre: «At this stage, there's no cause to evacuate, but we ask that residents adhere to the following: close all windows to prevent draft and reduce heat, damp down your garden using a hose or irrigation system».
READ ALSO: