At the Science Museum, Matt Hancock has received his Covid vaccine. He was jabbed by England's deputy chief medical officer, Jonathan Van-Tam,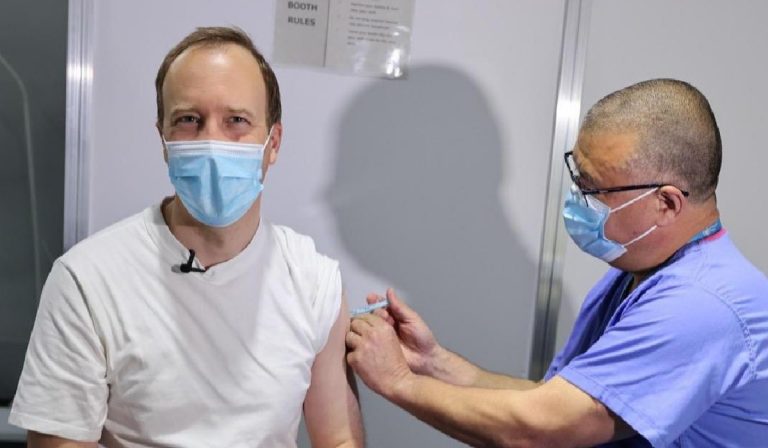 The health secretary Matt Hancock has received his Covid vaccine Thursday, April 29. He was jabbed by England's deputy chief medical officer, Jonathan Van-Tam, with whom the Health secretary knocked elbows. He received his vaccine at the Science Museam, where reporters were waiting for his words after the vaccination.
Matt Hancock gets his Covid vaccine
The Health secretary described the vaccination as quick and painless. He also encouraged those invited for a Covid-19 vaccine to accept the offer.
Moreover, he admitted that it was a privilege to get his first does within the Science Museum in London. Later, he thanked scientists, who were central in 2020 more than ever.
Matt Hancock later stated that over 47 million doses have been administered across the UK. The rollout continues at pace and the government is sure that all adults can have the first dose of the vaccine by the end of July.
Jonathan Van Tam's words
On Wednesday, April 28, Professor Van-Tam said that the UK had very low levels of Covid. This means that also the number of people in hospital will soon drop. For this improvement he thanked people who respected the restrictions. However, he also admitted that the vaccination programme had undoubtedly helped.
The Professor added that it would be safe for vaccinated people to meet and spend some time together. At the same time, he said that they are not yet able to do so because younger people have not had their dose of vaccine. Scientifically, if two people both had two doses of vaccine and they both wait 14 days after getting their second dose, it would be safe for them to meet.
When he was asked when this could happen in the UK, he answered really soon, or at least it's what he hopes. In the US, vaccineted people are already allowed to get together, in some cases even without the mask.