Sources say Hancock will reveal a great news about Covid figures in the UK with the target of vaccinations almost reached.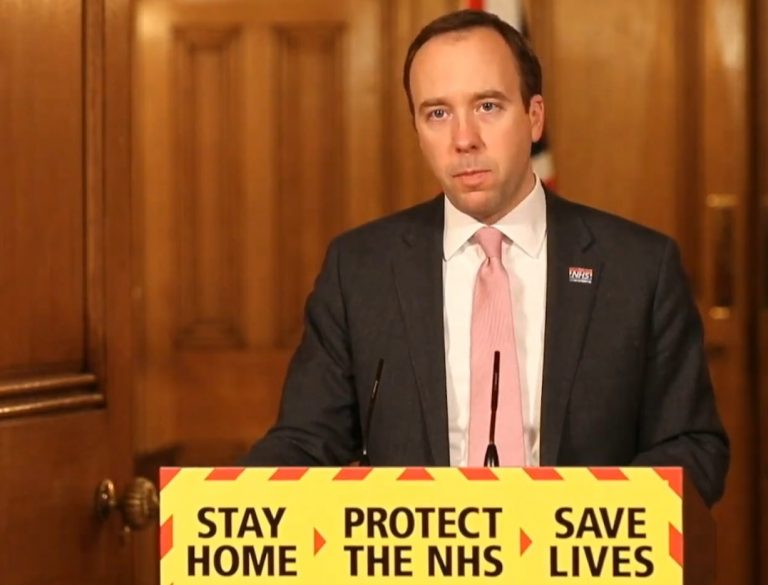 Health Secretary Matt Hancock will give a Downing Street press conference today about Covid figures in the country. According to leaked papers, Hancock will announce that UK Government is reaching the target of vaccinations.
Hancock to give press conference
Today at 5pm the Health Secretary will be announcing a good news, sources say.
According to a leaked paper, the Government has reached the target of vaccinating all care residents and staff by the end of January.
Only yesterday about 600,000 people across the UK received the jab, which means 1 per cent of the adult population in the UK received the vaccine in just 24 hours. Health minister Helen Whately has revealed the news of the care residents being almost completely vaccinated as 'tremendous news'. She said: "We all know they've had such a hard time during this pandemic. It's such a big moment.. We said they would be top priority for the vaccination and we've gone in and we're delivering on that.. It does feel like a real milestone for our care homes. It's been such a dark time and now this is a moment to give them hope and some protection against this tremendously cruel virus."
According to figures across the country, hospitalisations are also going down, although deaths from covid will remain high for some weeks. UK Government is now hoping to continue to be ahead of schedule in order to ensure a 'great British summer'.
Health minister Whately also mentioned it is too soon for the UK to give away its vaccine stockpile to other countries struggling with supplies. This comes after the growing row between the EU and AstraZeneca about giving 100m vaccine doses to the UK, while holding vaccine production in Europe.
READ MORE: