Clubhouse App is a new platform that lets people chat in real time, share stories, collaborate, and bounce ideas.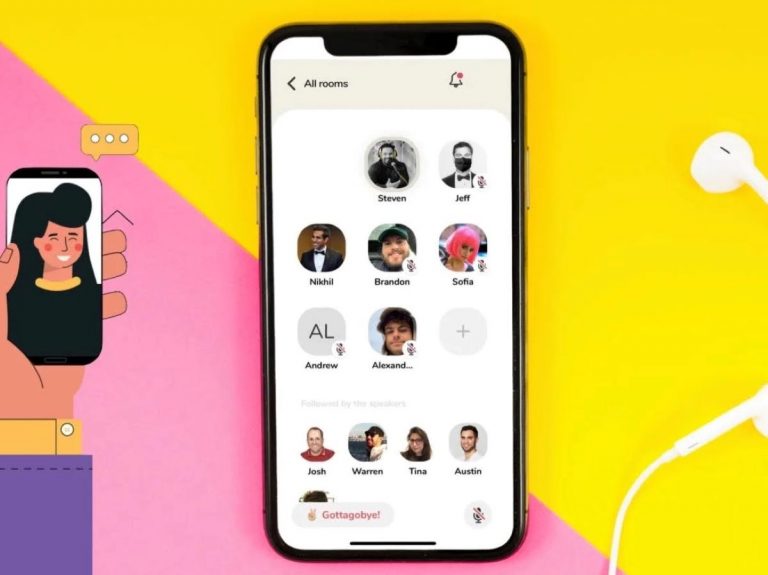 Clubhouse App is a new platform that allows people to chat in real time, share stories, collaborate, and bounce ideas off of each other using their voice without the need for a lot of other equipment.
Clubhouse App
What sets Clubhouse apart from other social media companies is the exclusivity.
Clubhouse is Silicon Valley's social hot spot. The limitations on invitations has boosted its appeal among entrepreneurs and business elites.
Here are just some of the reasons why Clubhouse might be the next big social media network:
It offers the ability to connect and engage with professionals outside of your industry or niche.
The typical social media algorithms that help people create echo chambers on other platforms are replaced with spontaneous rooms filled with real-time chats on a variety of topics.
The focus is on high-value conversations rather than produced content.
Clubhouse users are already fiercely loyal and protective, so they only allow certain people to join their app.
Clubhouse is also bringing audio to social media, something which other platforms have ignored.
You can use Clubhouse to network, grow your authority, or expand your knowledge.
Community-building for coaches and trainers: Once the app goes public, Clubhouse will become a great new place to bring your community and will provide a new way to engage and connect with them.
Community-building for virtual events: 2020 saw virtual events and summits go mainstream, but there were many security concerns, technical difficulties and timing issues. Clubhouse can accommodate all of this.
Curating content for content creators: You can start a room in order to create content by adding your intentions to the room's public title and description. Then you can use a room to ask questions, interview other members, get advice on various subjects, and put together articles. One downside is that once you have started a Clubhouse room, you can't edit or change the room's title or description. Recording and transcribing conversations in Clubhouse rooms without every participant's permission is strictly against the platform's Terms of Use.
Collaboration for projects and networks: Anyone can start a private chat with one of their connections which allows for private conversations regarding networking or collaboration opportunities. Once the chatroom is closed, everything is erased.
Podcast communities: You can use Clubhouse clubs to build communities related to your podcast to keep your audience connected and engaged.
Networking with experts in other industries: Clubhouse has built a platform that makes it possible to communicate with people from other start-ups, small business owners, multimillion-dollar CEOs, and tech giants. This facilitates opportunities which would be previously unimaginable.
Clubhouse is still in a private beta phase and available only to iPhone users. At present, you have to be invited by an existing member or apply to join and have an existing member allow you in.
Just like other social media apps, on your Clubhouse profile you have a photo of yourself and room to write a bio, the first three lines of which are available as a preview while in rooms on the app. You can link your Instagram and Twitter accounts to your Clubhouse account too.
The Clubhouse App Hallway is the name for their main feed. This is where you'll see active and ongoing chatrooms. Clubhouse clubs or scheduled rooms will be listed at the top of the hallway. The main menu is spread across the top of the hallway. From here, you can:
Search for a member using a name or keyword.
Invite a new contact to join Clubhouse.
View the calendar with upcoming rooms.
Review your notifications.
View or edit your Clubhouse profile.
Clubhouse rooms are like large online conventions. As you're scrolling down the Clubhouse hallway, you can the name of the room, some of the people currently in the room, and the number of people and speakers in the room. Clubhouse rooms shown in the hallway are public and anyone can hop into any of them at any time. Or you can start a private room with one or more of your connections and have a private chat.
When you enter a room, you'll see is the room owner, moderators, and speakers organized near the top of the room. This area is referred to as the stage in that room. Every speaker within the room shares the stage and can take turns speaking. Below the active speakers is the front row of the audience labelled "Followed by the speakers." This area shows those who have already interacted with the speakers and started building relationships. Underneath that, you'll see everyone else in the room with you and listening.
Clubhouse clubs are used to create communities within the platform. Rooms started with a club can be private or public. To request to found a new club, you'll need to host your first three recurring meetups and fill out a form. Members can only launch one club at a time and the wait time for setting up a new club is around 2 weeks.
There are four membership types in a Clubhouse club:
Founder: The club owner. A founder can edit the club's description and rules and invite members to join the club without having to request or wait for approval.
Admin: Chosen by the founder or another admin. An admin can approve or remove members and open private or public rooms.
Members: An approved participant in the club. A member can create private rooms for the club but not public rooms. They can also see and participate in both private and public rooms and nominate other Clubhouse members to join the club.
Follower: Not an official member of the club. A follower can follow public club activities but they can't create rooms for the club. They'll be notified whenever a member or admin of the club schedules a public room.