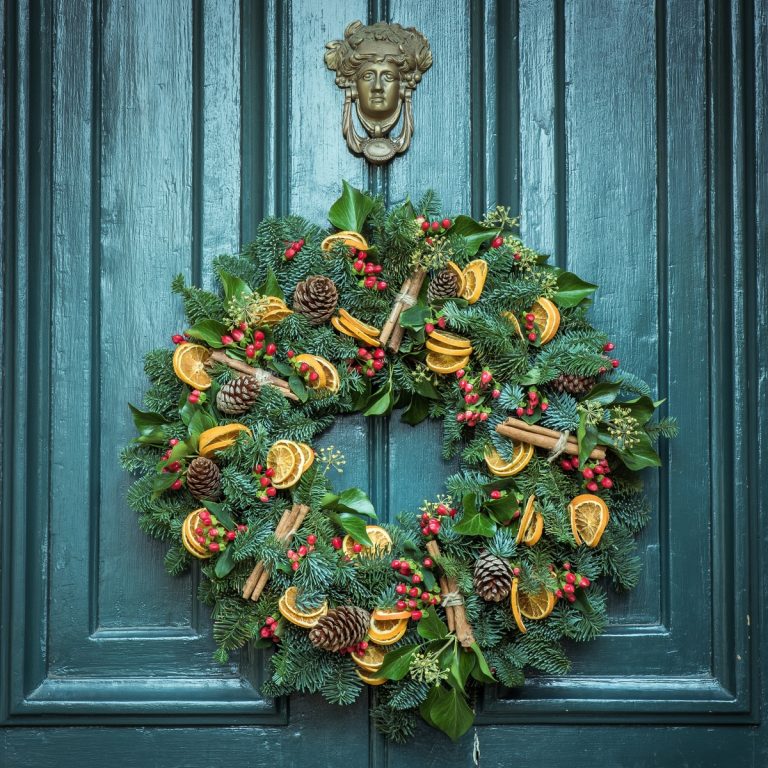 It's cheerful. And it allows us to really feel like we're in the mood for Christmas. The Christmas garland is a must-have decoration during these holidays. You can put it as a centrepiece, hang it outside the door or on a chandelier.
There are many different garlands in the shops, but why not try making one yourself? You'll be surprised how easy it is. And also, if you choose to use recycled materials, you will do the planet a great favour.
Creative recycling allows you to give new life to objects that we already have at home. Therefore, before wasting money on expensive decorations, collect old wire hangers, corks, tin cans, old Christmas tree balls and old laundry pegs. We will explain how to reuse them to create many beautiful DIY garlands.
How to Make a Christmas Garland
First of all, you must create the basis for your wreath. The best material is the wire, which you can get from the old hangers: just weave them to give shape to the garland. Alternatively, you can opt for a cardboard cut out in the shape of a circle or for a woven wooden ring. Surely you have at home an old fake Christmas tree. If so, take some branches, wrap them around the wire and then secure them with string.
At this point you can start adding the decorations. You can use bells, red flakes, cinnamon sticks, dried fruit, orange slices and lots of fake snow. Your do-it-yourself garland will smell great! Another very simple project involves the use of laundry clips. Once the structure has been created, apply the clips painted green, a red ribbon and a few colored beads between one clip and another. For an even more special effect, use the clips to hang the greeting cards you will receive and the photos taken next to the tree.
Other DIY Wreath Ideas
If you don't have any wire to reuse, but you love wine on the other hand, you can make a simple yet still impressive garland with corks. Just attach them to each other with glue. Use a cardboard base, place the corks according to your taste and then decorate the garland with colored ribbons or Christmas balls.
If you are lucky enough to have a beautiful garden, you will surely have wood sticks and pine cones that you don't know what to do with. Fortunately, you can reuse them to create a curious garland in the name of nature. All you have to do is create the wire base and then glue everything your garden has to offer onto it.