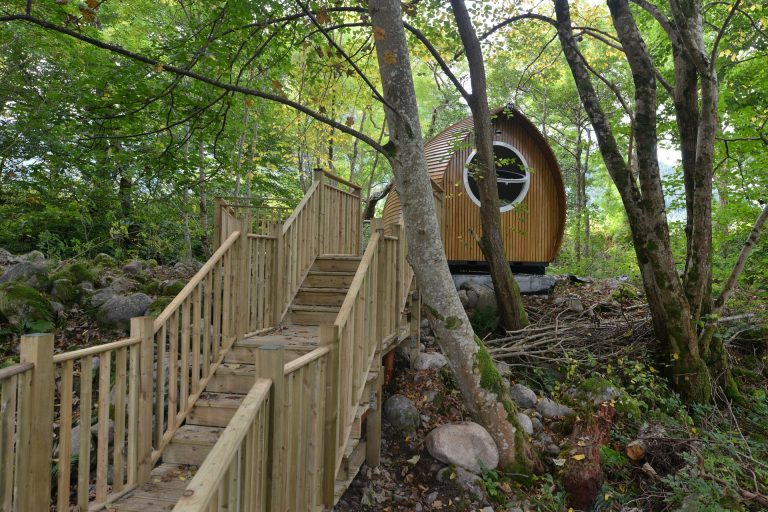 If you want to spend an eco-friendly holiday in the most unspoilt and wild nature, in enchanting and extraordinary places, but without sacrificing the comforts of a 5-star stay, there is a solution for you. Its name is glamping (from the union of the words glamour and camping) and is conquering more and more enthusiasts.
It is now one of the most popular and glamorous trends for travelers looking for unusual and authentic experiences.
Chic and Glamorous Eco-Friendly Holiday
Glamping is the answer for travelers who love the freedom of life in the open air, but don't intend to make a spartan holiday and give up comfort.
Forerunners of glamping were the camps with tents for safaris in Africa. Nowadays, this trend has spread all over the world. There are in fact many structures that, although with very chic and comfortable accommodation, furnished with the care and detail of a large hotel, ensure a face-to-face approach to nature and the proximity to the surrounding environment typical of campsites. Some examples are princely tents, tree houses, thatched huts with hydromassage, cottages from which you can see wild animals. In any case, the result is a truly unusual holiday.
Glamping in the World
You can spend sumptuous nights at The Oberoi Vanyavilas, on the edge of the Ranthambore, in Rajasthan. Nestled in the wild and lush nature of the park, it is the most luxurious campsite in India. The luxury tents with finely embroidered canopies have elegant and refined bathrooms. Moreover, the private enclosed gardens act as a curtain to the jungle.
In the pristine nature of northern Thailand, you can find the luxurious tents of the Four Seasons Tented Camp Golden Triangle. The property offers its guests a range of 5-star services, from relaxing massages to wines from renowned international maisons. But the truly unforgettable experience is an elephant ride at dawn. The tour starts at first light, while the sun rises over the mountains and reaches the highest point of the field. From here, travellers can contemplate the majestic beauty of the Golden Triangle.
Also in Australia it is possible to find a structure for glamping. This is the eco–friendly Longitude 131 campsite at Ayers Rock. Its location is truly unique and spectacular. In fact, it is located in front of Uluru, symbol of the nation and sacred place for Aboriginal people, in the heart of the Red Desert. The structure offers fifteen tents, air conditioned and furnished in the style of an Australian explorer, located on stilts. Their glass walls offer a splendid view of the monolith.