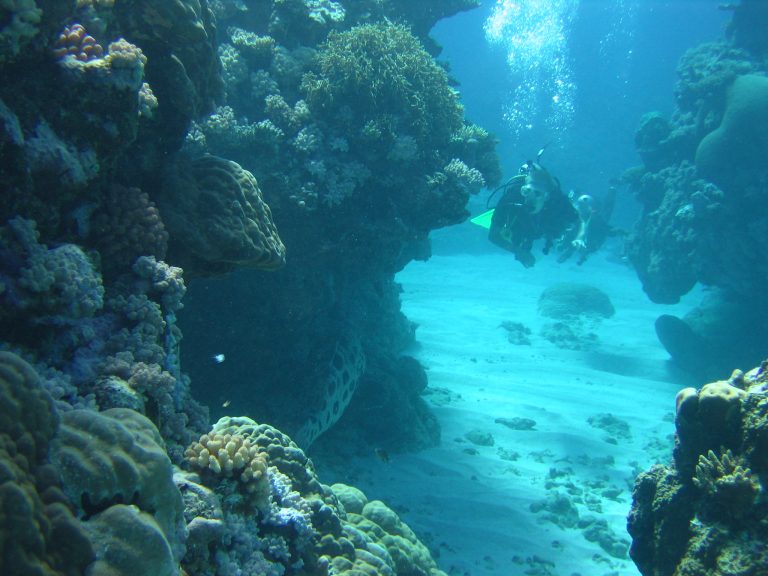 An open-air museum to safeguard the immense treasure of the Great Barrier Reef. And to make everyone aware of the importance of protecting flora and fauna that represent a unique treasure for the whole world. Australia, however, is not the first corner of the globe to carry out such a project.
In fact, it follows the example of Indonesia, the Maldives and the Canary Islands. The museum is curated by artist Jason deCaires Taylor who has also included a cathedral ready to become the new habitat for the species present and a true solar-powered sculpture.
It is all part of the Museum of Underwater Art inaugurated this December.
Safeguarding the Great Barrier Reef
The project has several goals. First of all, it aims to create a unique vision of Australia's Great Barrier Reef. Secondly, it wants to increase conscious tourism and above all help regenerate the corals and bring benefits to local communities.
In the short term, in fact, the birth of an underwater museum should help corals to regenerate. In addition, it is essential that tourists and residents learn to behave with awareness and care when diving. For this reason, four dive sites have been chosen in North Queensland. They are the Strand and Palm Island, Geoffrey Bay on Magnetic Island and the John Brewer Reef. The first two have depths ranging from 5 to 15 metres and are therefore also accessible to non-expert divers. The third, on the other hand, is perfect to tell the progress of scientific research for local survival. The fourth, finally, is a circular natural reef that manages to survive natural disasters thanks to its shape.
An Extraordinary Journey
Tourists can see the new corner of Moua without paying anything. The tour starts with a solar-powered sculpture depicting an indigenous girl who changes colour as the water temperature changes (5m Ocean Siren). We then move on to the coral nursery with a 12m underwater cathedral, which will create a new coral reef over time.
Our oceans are undergoing rapid change and there are huge threats, from rising temperatures to acidification and pollution. The underwater museum, therefore, aims to change the conception of our values. We need to start thinking of the seabed as something sacred, something that we should protect and not take for granted. In fact, it is essential to take care of a priceless and unrepeatable jewel that belongs to everyone – before it gets irreparably lost.