Jennifer Aniston, Courteney Cox, Lisa Kudrow, Matt LeBlanc, Matthew Perry and David Schwimmer went back to their Friends' apartments for a special episode that celebrates the iconic series.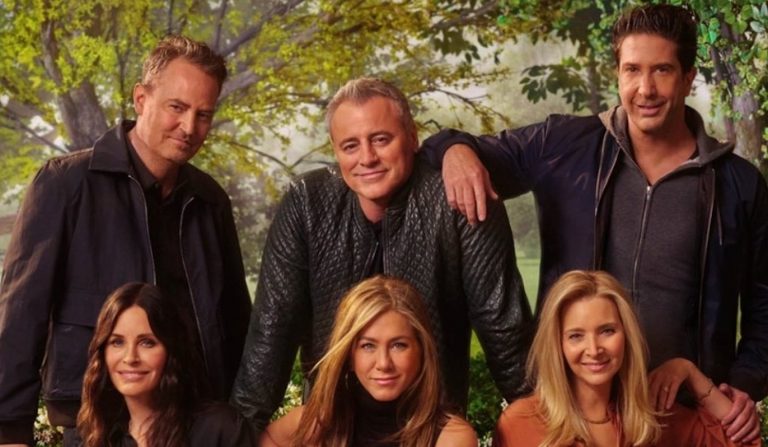 The cast of Friends returned to the show's iconic set after 17 years as shown by the last trailer for the reunion special.
Friends: The Reunion is going to be a special episode to celebrate the famous series. Jennifer Aniston, Courteney Cox, Lisa Kudrow, Matt LeBlanc, Matthew Perry and David Schwimmer gathered on the set at Warner Bros Studios to share memories, play a trivia game and do table read of the most famous scenes.
Friends reunion: the trailer
The trailer also shows James Corden asking one of the most disputed question: "Were Ross and Rachel on a break?". The whole cast answered yes, except Matt LeBlanc, who played Joey Tribbiani, who replied "bullshit".
Lisa Kudrow, who played Phoebe Buffay, revealed they are all very fond of the show.
Courteney Cox, who played Monica Geller, added: "It was an incredible time. We became best friends".
Jennifer Aniston, who starred as Rachel Green, told that a producer of another show claimed Friends would have never made her a star. Instead LeBlanc recalled that the show gained so much popularity, that once he come upon a tv program showing aerial shots of their houses. David Shimmer, who was Ross Geller in the show, commented: "Everyone was so perfectly cast".
The Friends reunion special will be available on HBO Max in the US from May 27. But it is still unknown when and where the special will be aired in the UK. A lot of celebrities will make an appearance on the show, including Justin Bieber, David Beckham, Lady Gaga and BTS.
Cara Delevingne will also take part in the episode, recreating the memorable bridesmaid look that Rachel wore at her ex-fiancé Barry's wedding. In the original episode Rachel accidentally shows her knickers. So, Delevingne revisited the fashion accident, revealing a pair of bright red panties under the pink dress.
READ MORE: