Britain's Got Talent judge was immortalized during a relaxing holiday in Barbados with his family .
Britain's Got Talent judge Simon Cowell unveiled a large scar that goes down the centre of his back. He was enjoying a relaxing holiday in Barbados.
Cowell unveiled the large scar
Months later, Cowell from his horrific summer cycling accident.
However, emergency surgery that he had to undergo has left him with a large scar.
The immortlation of his scar arrives as Simon is making good progress. According to some reports, infact, he is facing gruelling workout sessions and. also, he is walking around five miles a day.
In the photo in question, the music mogul was immortalized during a luxury vacation in Barbados. He went topless while exercising and stretching on a luxurious yacht.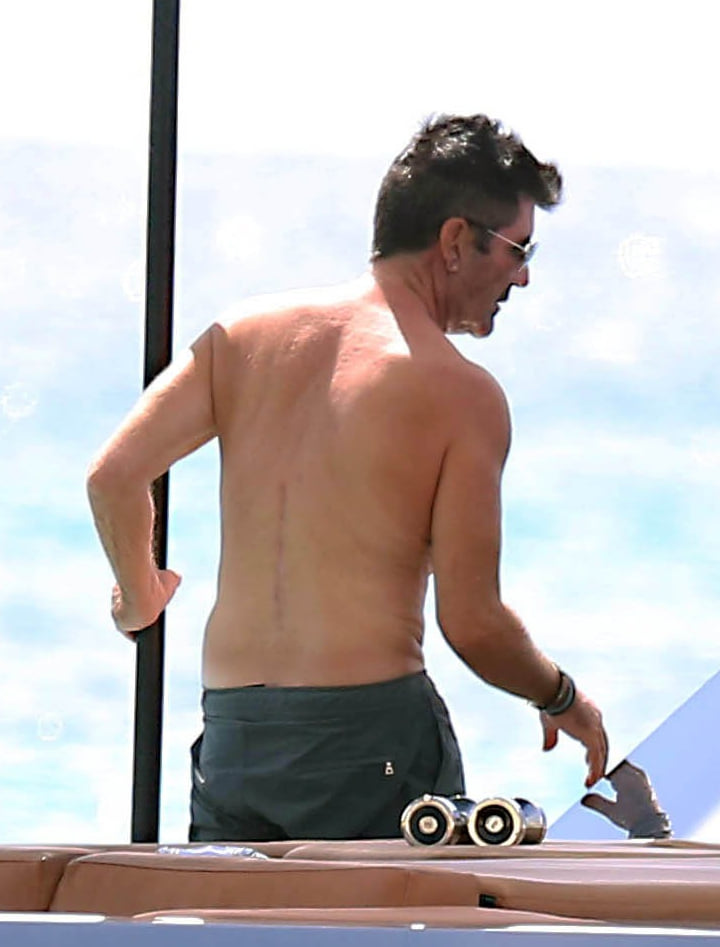 Moreover, as Simon wielded various weights and walked around the boat, his enormous scar was visible in the center of his back. Then Cowell lay on his back and he practised several stretching movements in the scorching sun.
His summer cycling accident
This summer, Simon fell off his electric bicycle while he was testing it at his home in Malibu.
The disastrous fall caused damage to his spine. For this reason, Simon needed six hours of emergency surgery and also had a rod inserted into his back to aid his recovery.
Morevoer, after the dramatic accident, Simon was forced to cancel all of his television appearances. He also had to pull out of the Britain's Got Talent finals and he was replaced with Ashley Banjo.
After months of shooting and a lot of training, Simon now appears more and more in strength. For this reason, to celebrate Christmas and New Year in style, Simon and his girlfriend Lauren Silverman flew to Barbados with their six-year-old son Eric.
READ MORE: