It represents an American museum of the culture the indigenous peoples of the Americas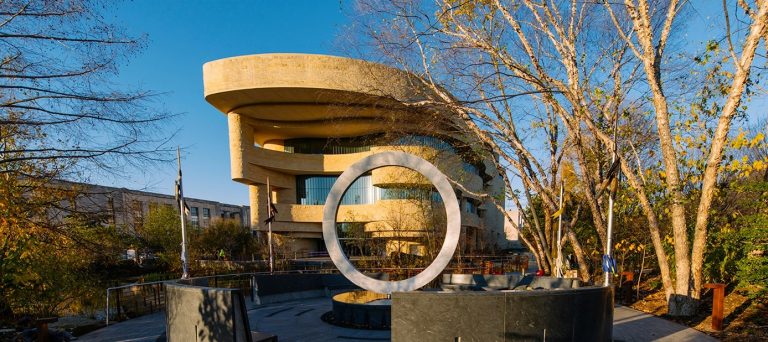 The National Museum of the American Indian is a museum in the United States of the culture the indigenous peoples of the Americas. It is part of the Smithsonian Institution group of museums and research centers. Its main characteristic is that it consists of three facilities.
Let's see them in detail below.
National Museum of the American Indian: the National Mall
The National Mall is located in Washington and its site opened in September 2004. It represents the first national museum in the country dedicated exclusively to Native Americans.
We are talking about a five-story curved building. Its main characteristics is that it is clad in a golden-colored Kasota limestone designed to evoke natural rock formations. Moreover, the museum's architect and project designer is Canadian Douglas Cardinal, nicknamed Blackfoot.
The museum offers a range of exhibitions, film and video screenings, school group programs, public programs and living culture presentations throughout the year. In general, Native Americans filled the leadership roles in the design and operation of the museum. Also they aimed at creating a different atmosphere and experience from museums of European and Euro-American culture.
George Gustav Heye Center
George Gustav Heye was a collector of Native Americans artifacts. He traveled throughout North and South America in order to collect native objects. His collection was assembled over 54 years and he started the Museum of the American Indian and his Heye Foundation in 1916. In particular, the Heye Foundation's Museum of the American Indian opened to the public on Audubon Terrace in New York City in 1922.
However, the museum at Audubon Terrace closed in 1994 and part of the collection is now housed at The Museum's George Gustav Heye Center. The building was designed by architect Cass Gilbert in 1907 in a Beaux Arts-style. It is a designated National Historic Landmark and a New York City landmark.
Cultural Resources Center
Finally, the third facility is represented by the Cultural Resources Center. It operates in Suitland, Maryland.
This facilities is the most recent of the three, because it opened in 2003. It consists of an enormous, nautilus-shaped building which houses the collection, a library, and the photo archives.
The Centre represents a purpose-built facility dedicated to the research and conservation of the vast collection of objects, records, and media items held by the museum.
Serious scholars researching Native American cultures can contact the Centre to gain access to their archives and collections. Symbolic artefacts are kept here, and native North Americans can gain access both as advisers and claimants. Moreover, they are also encouraged to train as curators and conservators.
There are extensive library facilities. The collection is so impressive that it represents First Nation inhabitants from Canada to the Caribbean, from Alaska to southern South America.