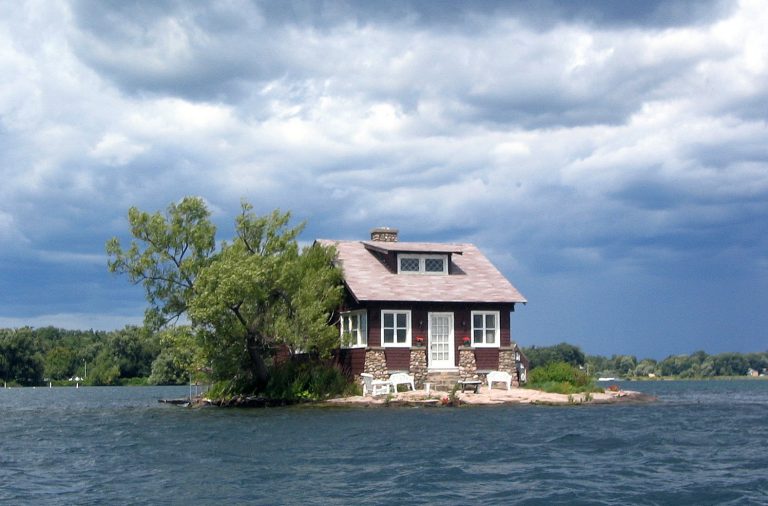 Whether or not it is an island is a controversial issue. But that does not diminish its charm. We are talking about Hub Island, or rather Just Enough Room Island, a rock the size of a tennis court in Alexandria Bay, New York State.
It is like a dot in the middle of Saint Lawrence River, between Heart Island and Imperial Isle, near the US-Canada border. The most interesting thing, though, is that there are even some people living there. In fact, there's just a house, a tree, two deck chairs and a small beach.
Hub Island Is the Smallest Inhabited Island in the World
You could say the whole island is a house. And it is so special that it has become a tourist attraction, with thousands of visitors a year. Despite this, however, only the owners and their guests are allowed to land on the island. For its size of 306.58 square meters it could win the title of the smallest inhabited island in the world. In fact, what held this record before was the tiny island of Bishop Rock in Cornwall. However, since the lighthouse there became automatic, the island has lost its only inhabitant – and thus its record.
To enter the Guinness Book of World Records, the land must support at least one tree and stay above water level all year round. And the real problem is precisely this last characteristic. In fact, when the river water rises, the land on which the house rests could end up under water. This phenomenon is fortunately not so frequent. However, it reached its highest peak just last spring, so much so that the house has flooded.
The Story of the Island in Saint Lawrence River
Hub Island had no owner until 1900. It was bought by the Sizeland family in the 1950s. After that, they turned it into Just Enough Room Island and built a custom house. The plan of the house follows the boundaries of the island, in order to make the most of the space available. Their idea was to create a summer retreat, where you could have some privacy. However, their plans failed when tourists began to crowd the river by boat, dinghy or even just canoe to admire the unusual cottage up close. People soon realized that it was the smallest of the 1,864 islets that rise out of the river that separates New York State from Ontario.