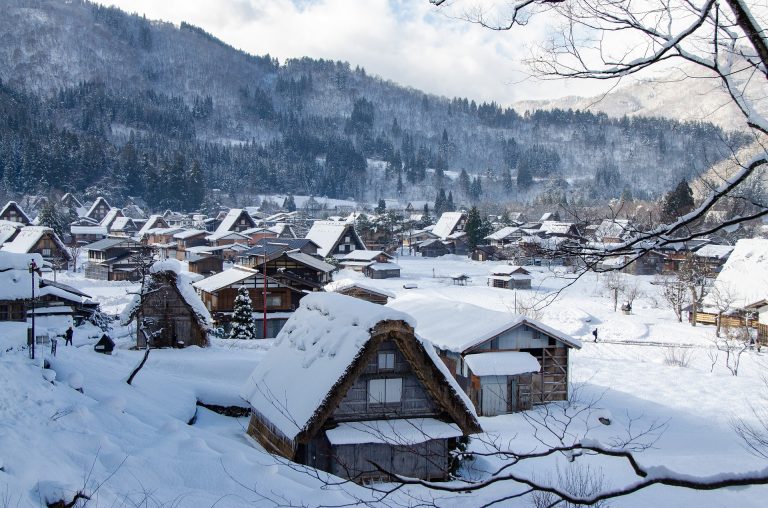 Discovering Japan in winter is an unforgettable adventure that will delight even the most demanding traveller. In fact, the twilight lights that reflect on the snow create a suggestive atmosphere. In central Japan, between Tokyo and Kyoto, there are some places where everything becomes pleasantly surreal and nature becomes the great and absolute protagonist.
Historic Houses in Central Japan
Firstly, there the historic villages of Shirakawa-go and Gokayama. Declared a UNESCO World Heritage Site in 1995, they are located in the valley along the Sho River, in the prefectures of Gifu and Toyama.
The villages are famous for their rustic houses with sloping thatched roofs. This type of structure became a permanent feature of this area in the late 17th century. In fact, there was a need to withstand heavy snowfall and to maintain a space suitable for sericulture.
While in the rest of Japan farms have one or at most two floors, these wooden houses also have three or four floors. The reason for this is simple and is due to issues of space and work. The inhabitants lived on the lower floors and used the attic mainly for silkworm breeding. The particular structures have a shape reminiscent of two hands joined in prayer. It is precisely when they are covered with snow that they are best appreciated.
Skiing in Central Japan
The Nagano Prefecture, with its many ski resorts and lots of snow falling during the cold season, is the ideal region for visitors who want to enjoy winter sports in Japan. In this area there are about eighty resorts that can satisfy skiers and snowboarders of all levels. The most popular is the Hakuba Happo-one Snow Resort, location of the 1998 Winter Olympics. There is also the family-friendly Karuizawa Prince Hotel Ski Resort.
Very popular is the Nozawa Onsen Snow Resort, a ski resort with a variety of slopes and 13 public baths filled with relaxing hot thermal water. Other noteworthy ski resorts in the area are Shiga Kogen, Hakuba Cortina and Madarao Mountain Resort.
Enjoying the Mild Climate
After the pleasant cold and snow activities you can go to Gamagori. Here the climate is nice even in winter thanks to the warm wind coming from the Pacific Ocean. The pleasant temperatures make it possibile to make many fun and traditional activities. For example, there is the mandarin harvest between October and December and the strawberry harvest from January to May.
The city also offers a wide choice of spas. Laguna Ten Bosch/Lagunasia is located in this region. It is a marine themed entertainment complex with a spa, a shopping centre, an amusement park and a theatre where an all-female musical company performs twice a day. The Takeshima Fantasy Museum is another place of interest thanks to its display of special murals and statues made from shells. There are in fact as many as 55 million from all over the world.