The accounts of Peaky Blinders have paid tribute to actress Helen McCrory, Aunt Polly in the show, who died of cancer aged 52 on Friday, April 16.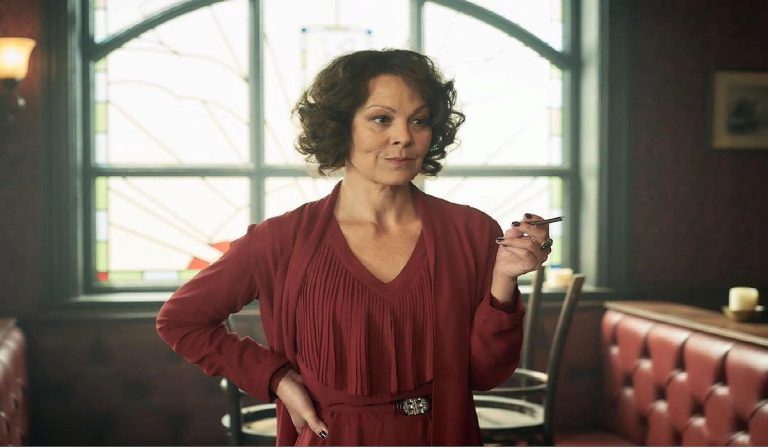 The famous TV show Peaky Blinders has paid tribute to Helen McCrory, who died of cancer aged 52. She played the character of Aunt Polly in the BBC show. The star's husband, actor Damian Lewis, announced the death of his wife, with whom he has two children, on Friday, April 16.
Peaky Blinders tribute to Helen McCrory
During last years, Helen McCrory was playing the strong character of Polly Gray in Peaky Blinders. The show has paid tribute to the actress, posting on the show's official Instagram account an image. In the photo there was a filming board illustrated with an image of the actress as Aunt Polly with the word: "Rest in Peace Helen". The caption of the image said: "Forever part of the Peaky Blinders family".
The day of the actress' death, the show's account posted a longer and emotional tribute to the star. It read: "Helen's performance as Polly Gray was inspirational, joyous, transgressive, hilarious and incredibly moving. As a person she was off-the-scale charismatic, and deeply caring. We feel so privileged to have worked with her over the last decade. All our thoughts and love are with Damian and family".
Also Cillian Murphy, her co-star on the show, wrote a tribute. It said: "I am broken-hearted to lose such a dear friend. Helen was a beautiful, caring, funny, compassionate human being. She was also a gifted actor, fearless and magnificent. She elevated and made human every scene, every character she played. It was a privilege to have worked with this brilliant woman, to have shared so many laughs over the years. I will dearly miss my pal. My love and thoughts are with Damian and her family".
Actor Damian Lewis' tribute to his wife
Damian Lewis immediately paid tribute to his wife of 15 years. He described her as "a meteor in our life". He said that his wife had "lived by the principle of kindness and generosity, always took an interest in others and made them feel special. I've never known anyone so consciously spread happiness. Even in her last few days, when talking to our wonderful carers, she repeatedly said, 'thank you so much'. She always asked people how they were, always took an interest, made each person she met feel special. She was funny as hell".
He also said that McCrory was fiercely proud of her career as an actress. She was also famous for portaying Narcissa Malfoy in Harry Potter's films. The actors then added that his wife was utterly heroic in her illness and always told her children that she had "lived the life I wanted to".